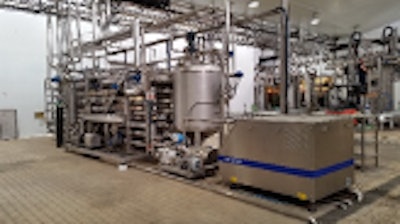 Annular space heat exchangers, such as the AS Series from HRS, a thermal technology provider, work by passing the product through the gap between the inner and outer tubes (the annular space), which makes them suitable for thick, highly viscous products such as fruit purees, thick sauces, honey, and syrups.
The design works for both the heating and cooling of product. HRS's corrugated tube technology is designed to increase heat transfer and energy efficiency, as well as reducing product fouling on the tube surfaces.
HRS offers a high-pressure version of the AS Series. This includes thicker tube walls around the product, while the service fluid (usually water or steam) remains at standard pressures of around 10 bar. The design means that process pressures of up to 150 bar can be accommodated on the product side of the heat exchanger for applications such as pasteurizing and sterilizing tomato and strawberry purees.
---
PACK EXPO Connects – November 9-13. Now more than ever, packaging and processing professionals need solutions for a rapidly changing world, and the power of the PACK EXPO brand delivers the decision makers you need to reach. Attendee registration is open now.
---
Companies in this article