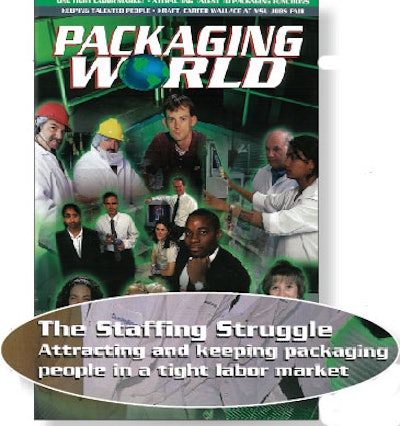 Back then, an early 1990s spate of cuts to in-house packaging departments among end users, in favor of outsourcing, led most to believe there must be a large population of skilled personnel just waiting to retake their jobs in packaging when they were needed. But in the later '90s, with economy humming along before the dotcom bubble burst in 2001, the labor market tightened. When looking for packaging pros, end users found them to be more elusive than they assumed. We're seeing a similar pattern today.
"It does seem that we're at the bottom of the cycle once again–finding qualified technical staff is difficult, particularly when looking for technical personnel with solid experience," says Bryan Griffen, Director, Industry Services, PMMI.
At the same time, a lot of manufacturers are reducing staff in an effort to improve the bottom line. This is resulting in early retirements and a loss of the most experienced technical staff. Manufacturers are finding it very difficult to replace this deep knowledge base.
"In the previous cycle, new packaging professionals (and other technical staff) were concerned about who they would work for and how much they would be paid," Griffen says. "In this cycle, new technical professionals are more interested in career paths and a rapid ascension. Unfortunately, this compounds the issue of a lack of real experience."
The OpX Leadership Network, convened by PMMI, was founded to help solve some of these issues. Several of the OpX work products are focused on helping young engineers correctly implement projects, such as the Request for Proposal, Factory Acceptance Tests, and Total Cost of Ownership work products. Other work products are geared towards solving personnel issues like creating a culture of safety and improving employee engagement.