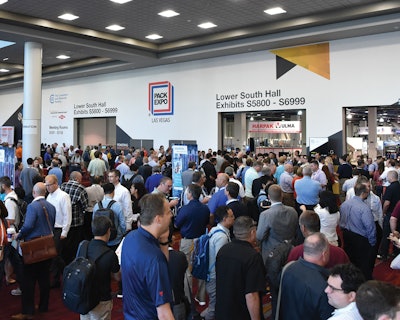 The largest ever PACK EXPO Las Vegas—along with the co-located Healthcare Packaging EXPO—comes to the Las Vegas Convention Center September 23-25. Produced by PMMI, The Association for Packaging and Processing Technologies, this is the biggest gathering in North America of suppliers and manufacturers of packaging goods and services, including those for pharmaceuticals and medical devices. PACK EXPO Las Vegas' 2,000 exhibiting companies will host an expected 30,000 attendees across the 900,000 net square foot exhibit floor, including 5,000 international visitors from more than 125 countries.
A growing show can't stand still and rest on its laurels. That's why PACK EXPO Las Vegas is rolling out a host of new features, educational tracks, and programs never before seen at the Vegas show. Some, like the Robotics Zone, are all new to the entire catalogue of PMMI events. Others are exports from either beta testing or launches at other PACK EXPO locations and variants, but are making landfall in Las Vegas for the first time. Regardless of their genesis, attendees will enjoy a decidedly fresh and timely feel.
"We are excited to unveil our new show features that will add even more value for the industry professionals making the trip to attend," says Laura Thompson, VP, trade shows, PMMI. "We are constantly looking for ways to improve the attendee experience and provide access to the latest industry trends and thought leaders and maximize the networking at the show. What better way than offering more on-floor experiences and education to maximize time spent at the show."
Below is just a taste of what's new at the show. As you roam the show floor, you're bound to be taken off guard by the exhibitor booths themselves, each providing their own fresh contributions to the show that aren't even listed here. Be sure you save some time to do some wandering, and as I've always been instructed, to let the show come to you.
Robotics Zone launches, fights hunger
Innovation in automation is driving rapid developments in robotics. This year, PMMI dedicated an entire zone in the North Hall to showcase some of the latest technologies in robotics where you can witness their capabilities and see them in action.
Upon arrival to the Robotics Zone, the PACK EXPO Omron Greeter Robot will welcome attendees. Since the show is in Las Vegas, the Robotics Zone will of course include gambling and a show as visitors are welcome to check out Omron's Interactive Dice Playing robot and Ready Robotics' Bowling Robot while listening to a concert from the Kuka Robotic Pianist.
Comau will showcase its Interactive Wearable Exoskeleton where attendees can try on a wearable suit and perform assisted task and product handling. Also to be seen is the Soft Robotics End-Of-Arm Tool Exhibit which will demonstrate an EOAT designed to mimic the human hand to grasp and manipulate items that vary in size, shape, and weight.
Finally, witness Pick and Place/Relocation Activities in action, compliments of the University of Waterloo Autonomous Robotic Lab and the Object Detection and Flexible Grasping with Artificial Intelligence Demo, sponsored by Siemens.
But what's most impressive about the robotics zone, and what will likely have the greatest impact, is PACK for a Purpose: Robots Fighting Hunger, in collaboration with charitable foundation Blessings in a Backpack.
PACK for a Purpose
Technology will take on childhood hunger at PACK EXPO Las Vegas when robots pack bags of weekend food for children facing food insecurity across Las Vegas, Chicago, and Virginia. It's part of the PACK for a Purpose: Robots Fighting Hunger demonstration, in collaboration with Blessings in a Backpack, which provides food on the weekends for elementary school children across America who might otherwise go hungry.
"We are not only excited to showcase [robot] innovation, but also to use this technology to fight hunger. We are honored to work with many PACK EXPO exhibitors and Blessings in a Backpack to make a difference in children's lives," says Thompson.
Situated in the debuting Robotics Zone, (Booth N-850) exhibitor supplied robots will demonstrate various automated capabilities, while filling 6,000 bags of kid-friendly, nutritious food for Blessings in a Backpack programs in Las Vegas, Chicago, and Virginia. PACK EXPO attendees will have the opportunity to write inspirational note cards that the robots will insert into the bags of food.
"Our collaboration with PMMI started about a year ago during PACK EXPO. PMMI had the brilliant idea of having robots pack bags of food for the kids we serve at this year's PACK EXPO," says Brooke Wiseman, Blessings in a Backpack CEO. "It's all in the "hands" of our robotic supporters and we are so grateful for their partnership."
The exhibitor-supplied robots participating in PACK for a Purpose: Robots Fighting Hunger include:
• Bosch Packaging Technology, Inc.
• Chicago Electric
• FANUC America
• ProMach Performance Services with ABB, Soft Robotics, and Cognex
• Universal Robots in partnership with Allied Technology
The charity is also a familiar one to the CPG companies and retailers attending PACK EXPO Las Vegas, with recognizable brands like Meijer, Trader Joes, Constellation Brands, and Conagra serving as Blessings in a Backpack partners.
Constellation Brands, for example, holds bi-monthly packaging events in their Chicago office with employees taking time from their workday to pack food into backpacks for a local school it sponsors.
"It is a daunting challenge for children to learn when they are hungry or worried about what they will eat once the school week is over," says Jim Ryan, SVP of Corporate Affairs for Constellation Brands. "We really look at this partnership as Blessings in a Backpack helping us engage and invest in our home communities to make a difference."
Conagra not only offers funding and time but directs its grants to ensure the volunteers who make up Blessings in a Backpack receive proper training and guidance to get the most out of their time, according to Senior Director of Community Investment Robert Rizzo.
Forums and Innovation Stages
The Forum, a growing staple in the PACK EXPO portfolio of trade shows, makes its PACK EXPO Las Vegas debut in the Central Hall with its interactive industry knowledge exchange. The Forum offers free, 45-minute learning sessions on the latest industry trends, including hands-on activities, small group discussions, and Q&A each day of the show.
The Innovation Stage, now a tried and true anchor of PACK EXPO education, consists of free, 30-minute seminars that are presented by suppliers throughout the day at Innovation Stage venues on the show floor. No registration is required; you can stop by at any time to rest your feet and learn something new. At PACK EXPO Las Vegas—Central Hall. At Healthcare Packaging EXPO—North Hall.
Finally, at the Reusable Packaging Learning Center, discover how investing in reusable packaging assets may not only increase sustainability in your supply chain, but also cost effectiveness. Located in the Upper South Hall in the Reusable Packaging Pavilion.
Educational and career-search opportunities for students
PACK EXPO Las Vegas offers programs and activities aimed at getting students excited about careers in packaging. The Amazing Packaging Race is designed to show university students exciting possibilities in the packaging industry. In this fun and educational event, teams from colleges and universities across the U.S. race around the PACK EXPO Las Vegas show floor to complete tasks at the booths of participating exhibitors.
Future Innovators Robotics Showcase will feature robotics teams from Las Vegas area high schools bringing in robots they have designed and built themselves and showing them in action. Come watch these fun demonstrations and feel free to ask questions.
CareerLink LIVE @ PACK EXPO, a live version of PMMI's online job board, is going from computer screen to in-person event at PACK EXPO Las Vegas and Healthcare Packaging EXPO in 2019. CareerLink LIVE @ PACK EXPO is an opportunity for PMMI, CPA, IoPP members, and consumer packaged goods (CPG) companies to meet with students and veterans pursuing careers in packaging and processing during one-on-one informational interviews. Interviews will take place at the show and registration is $49. Visit pwgo.to/5192 to learn more.
Develop and retain your workforce
PMMI is offering popular training workshops in Las Vegas to coincide with PACK EXPO Las Vegas. Visit pwgo.to/5194 to learn more.
• Risk Assessment Workshop: September 21-22, 2019: Looking for ways to reduce downtime, improve productivity, and ensure worker safety? Join PMMI's Risk Assessment experts and learn the tips and techniques for evaluating your equipment for potential health and safety hazards.
• Certified Trainer Workshop: September 23-24, 2019: PMMI's Certified Trainer Workshops will give you strategies and tactics to train across all employee skill levels, including service technicians, service and training managers, maintenance technicians, internal trainers, line supervisors, and any employee tasked with training fellow employees or customers.
• Fundamentals of Field Service: September 23-24, 2019: Field service technicians are the face of your organization. While technical proficiency garners the most attention, there is far more to being a technician. This two-day workshop explores non-technical knowledge and skills needed to be a great technician. Topics include: Customer Service, Troubleshooting, Environmental Issues, Safety, Training, and Service Call Follow Up. For PMMI Members only.
Women on the cutting edge of science, tech
Women and men alike should sign up for the Packaging & Processing Women's Leadership Network (PPWLN) Breakfast to hear from women leaders in the industry and connect with peers through networking exercises and shared experiences.
Ellen Ochoa, the first Hispanic woman ever to go to space, is the keynote speaker at the breakfast. The latest in a series of networking events, this year's theme, Exploring New Territory, will shine a spotlight on Ochoa—who, in addition to her four space missions, is only the second female Director of NASA's Johnson Space Center where she led the human space flight enterprise for the nation from 2013 to 2018. Her experiences as a history-making astronaut and her message of innovative change will inspire other women to embark upon a voyage of self-discovery. Register for this PACK EXPO Las Vegas event, to be held on Tuesday, Sept. 24, 2019 at 7:30 a.m., at: www.pmmi.org/ppwln/events.
Optimize your time at these pavilions and lounges
After a successful launch in 2018 at PACK EXPO International, the PACKage Printing Pavilion will focus on the advantages of digital printing, showcasing the latest in cost-effective solutions for smart, short-run, on-demand, cost-effective, variable data, and personalized packaging. Located in the Central Hall. Other pavilions include:
• The Containers and Materials Pavilion: See the latest innovations in paperboard, glass, metal and plastic, flexible, and resalable packaging, as well as containers and materials. Located in the Lower South Hall.
• The Showcase of Packaging Innovations®: Sponsored by Dow®, these award-nominated packaging solutions will be on display and located within the Containers and Materials Pavilion.
• The Reusable Packaging Pavilion: Sponsored by the Reusable Packaging Association (RPA), it will showcase sustainable packaging solutions to help reduce waste, cut costs, and gain chain efficiency. Located in the Upper South Hall.
• The Confectionery Pavilion: See the latest trends and technologies relating to aeration, batch refining, shaping, cluster production, and more. Located in the Upper South Hall and sponsored by NCA.
• The Workforce Development Pavilion: This is PACK EXPO Las Vegas' one-stop shop for resources to strengthen your current workforce and grow the existing workforce. Learn about PMMI U offerings, including popular training workshops. Schools will present mechatronics, packaging and processing offerings, and you can meet students interested in careers in the industry.
Industry-specific lounges allow attendees to network, gain insights, and recharge at three distinct lounges that are carefully categorized to match specific vertical industries that constitute the broader world of packaging.
• Beverage Cooler Lounge Hosted by the International Society of Beverage Technologists (ISBT) —Upper South Hall, Booth S-7629.
• Snack Break Lounge Hosted by SNAC International—Upper South Hall, Booth S-7628.
• Candy Bar Lounge Sponsored by Bosch and hosted by the National Confectioners Association (NCA), located in The Confectionery Pavilion. Upper South Hall, Booth S-7201. A reception will take place on Tuesday from 3:30-5:00 p.m.
Meanwhile, Lenze Americas is sponsoring lounges for exhibitors and PMMI members.
"The show floor is exciting, and the lounges are often the quiet counterpart where exhibitors can come to unwind and have some much needed down time. We're grateful to Lenze for sponsoring this resource again in 2019," says Jim Pittas, president and CEO, PMMI.
The lounges will provide seating, coffee and a chance to take a break and recharge away from the busy show floor. These will consist of two Exhibitor Lounges, located in rooms N-114 and S-222, and two PMMI Member Lounges, located in rooms N-101 and S-221. The lounges will be open on Sept. 23–25, from 8 a.m. until 4 p.m.
Vision 2025
Before the show opens, join us for breakfast and gain valuable connections, insights, and new perspectives. Come to one of three sessions for an interactive discussion on key industry topics with your peers. Participation is FREE to PACK EXPO Las Vegas attendees on a first come, first serve basis—so get your request in early to reserve your spot. Sessions will take place Monday through Wednesday, 7 a.m. – 9 a.m. Sessions:
• Monday, September 23 - Asset Reliability: Assessing Your Company's Technical and Operational Readiness
• Tuesday, September 24 - Onboarding: The Last Chance to Make a Great First Impression on New Hires
• Wednesday, September 25 - Begin with the End in Mind: Writing Better RFPs (Request for Proposal) Upfront to Avoid Later-Stage Problems. Register at pwgo.to/5191 and pick your session.
Healthcare Packaging EXPO 2019 Show Floor
The world market for pharmaceutical packaging is forecast to grow 4.1% through 2021, faster than any other packaging segment, according to PMMI's Global Trends Impacting the Market for Packaging Machinery 2018 report.
Healthcare Packaging EXPO, Co-located with PACK EXPO Las Vegas, offers the widest range of packaging technology solutions—including equipment, product and service providers, logistics suppliers, and contract manufacturers—for pharmaceutical and medical device manufacturers in North America.
Visit the more than 250 exhibitors on Healthcare Packaging EXPO's 100,000 net square-foot show floor to see the latest supply chain solutions for pharmaceuticals, biopharma, medical devices, and nutraceuticals. Interact with 5,000 packaging and processing industry professionals—the top pharma companies are represented. Free educational sessions for attendees are available on the Healthcare Packaging EXPO show floor, and visitors will also have full access to the related packaging educational sessions a few steps away at PACK EXPO Las Vegas.
Solutions spanning the supply chain addressed at the show include:
• Automation
• Continuous processing
• Cleaning and sterilization
• Cold chain logistics
• Commissioning
• Qualification and validation
• Dose processing
• Quality control
• Track and trace
PACK gives BACK welcomes Space Cowboy, AKA Gangster of Love
PACK gives BACK™, sponsored by Rockwell Automation, returns to PACK EXPO Las Vegas and Healthcare Packaging EXPO with a brand-new act and new benefitting organization. Headlining this year's event will be the legendary Steve Miller Band known for hits such as "The Joker," "Livin' in the USA," "Take the Money and Run," "Fly Like an Eagle," "Jet Liner," "Jungle Love," and "Abracadabra."
A portion of the proceeds from this year's event will support NS2 Serves®, a nonprofit dedicated to helping recent U.S. military veterans to transition from combat boots to business suits. This charitable group provides valuable IT training and employment assistance at no cost to veterans. The fundraiser on Monday, Sept. 23, kicks off with a networking reception at 4:00 p.m. followed by a performance by The Steve Miller Band at 5:00 p.m. in the North Hall of the Las Vegas Convention Center. Tickets are $95 and include drinks and light hors d'oeuvres. For more information and to purchase tickets visit: www.packexpolasvegas.com/pack-gives-back.
Technology Excellence Awards Honor High Achievement
The Technology Excellence Awards will recognize exhibitors' innovative technology that has not yet been shown at a PACK EXPO and Healthcare Packaging EXPO in the previous calendar year. All registered attendees will be able to vote on their favorites among the finalists selected in specific market segments.
Voting will take place live starting when the show opens on Monday, Sept. 23 at 9 a.m. and goes through noon on Tuesday, Sept. 24. There are three ways to vote: onsite, on the official show mobile app, or online at pwgo.to/5224.
The Technology Excellence Awards 2019 Finalists are as follows:
Baking & Snack
• BVC-145 Twin Tube vertical form fill seal machine, Rovema North America, Inc.
• Dave's Killer Bread English muffin package,Amcor Flexibles North America
• Entour™ Front of Store Recycle Capable Bear Naked Granola Package, Berry Global, Inc.
Beverage & Dairy
• iFill Systems introduces the iFill 7000XP, iFill Systems
• BluStream® Dry Cap/Non-Chemical Sterilization Module,Serac, Inc.
• Applicator Machine for E6PR™ Rings, TECMA ARIES
Meat/Poultry/Seafood
• Vericooler® III, Vericool, Inc.
• SaniForce 2.0 Large Particle Electric Operated Diaphragm Pump, Graco Inc.
• Matrix Ultra Labeler, UltraSource
Pharma/Medical Device
• BM 2030 PC, Belco Packaging Systems, Inc.
• FFS-30-2019, ORICS.
• Insura™ Seal Verification, Amcor Healthcare Packaging
General Packaging
• HD contouring for Molded Fiber Packaging, Golden Arrow Technology America Inc.
• Integrated machine vision, B&R Industrial Automation
• LDPET, Sleever International
There's An App for That
Be sure to download the free PACK EXPO International Mobile App, ready for OsX or Android, to navigate both shows like a pro. It will allow you to look up exhibitors, products, and educational sessions or create and save a personal agenda of what you want to see and do. You can navigate from booth to booth with the interactive map, or get news and notifications about demos, giveaways, and more. This will allow you to access your agenda anywhere, at dinner, at your hotel, or on the floor. If you have your phone on you, you'll have access. Download your app for free at pwgo.to/5222.
See Who's Exhibiting
Looking for a specific exhibiting company, technology, or category? Check out the online tool, called Map Your Show, to view the floor maps, plan out your route, and note who you really want to see. A more traditional, but searchable, alphabetical exhibitor list, along with other handy tools, are also available. Visit pwgo.to/5221.