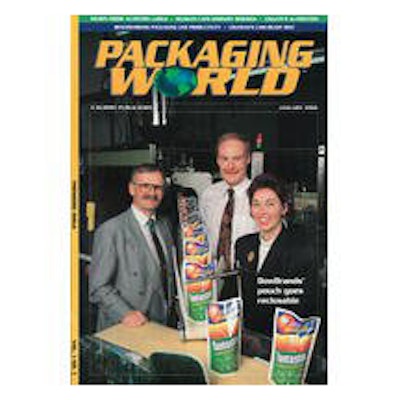 Of timelines and such—Joe Angel, Publisher, President, PMMI Media Group; co-founder of Packaging World
Looking back to fall of 1993, we will never forget the excitement (and anxiety) of anticipating the launch of our inaugural issue of Packaging World in January 1994. With my two founding partners, Lloyd Ferguson and Chuck Winnicky, we had assembled a publishing and packaging dream-team in late summer of '93 and formally announced the creation of a new packaging publication delivering "a world of difference." While our small team had plenty of packaging and media experience, none of us had been through a new magazine launch. Some in the packaging industry even thought we were crazy! But we were driven by confidence that we could turn our passion and vision into a game-changing new brand for readers and advertisers. And with the support of our charter advertisers, that's just what we did. Packaging World premiered in January 1994, on time if a bit over budget.
Little did we know what would transpire over the next several years as our start-up grew into the leading global packaging media brand. In our early days especially, the support of PMMI was huge for Packaging World and when PACK EXPO West premiered in 1995, PMMI turned to PW to help promote their brand-new show (now PACK EXPO Las Vegas). We developed an exclusive pre-show planner, the PACK EXPO Showcase, in cooperation with PMMI. This set the stage for a mutually beneficial relationship for many years, culminating with PMMI acquiring our company, Summit Media Group, in the fall of 2014. Today PMMI has grown to over 850 members and now produces six major trade shows. Their support has enabled PMMI Media Group to continue to grow and prosper.
While there were many pivotal events in Packaging World's 25-year history, we've highlighted some of the most significant with our 25th Anniversary Timeline and invite you to take a look back with us. Download PW's infographic at pwgo.to/3968.
True to our original mission, we continue to connect buyers with sellers and to educate industry about innovations in packaging, processing, and automation. Today PMMI Media Group produces seven leading media brands, including our newest for Latin America, Mundo PMMI.
Business-to-business media has transformed in ways we never could have predicted when we anxiously awaited that first issue coming off the press. I'm pleased to say that over the years, PMMI Media Group has not only kept pace, but has stayed at the forefront of print and digital media technology to deliver quality content for our readers. And with Editor-in-Chief Matt Reynolds at the helm, Packaging World is well-positioned to accompany our readers and advertisers through the next 25 years.
And onto the next 25 years—Matt Reynolds, Editor
When I first stepped up to the Packaging World plate this time last year, it wasn't without some veneration in recognizing the 25 years of history behind the magazine. I was taking delivery of a well-oiled machine, and in many ways, my first order of business was to keep things running smoothly without our readers or customers noticing the handoff. As then-PMMI President Chuck Yuska put it at the time, I'd begin leaning forward in my leadership role, and Pat Reynolds, VP and Editor Emeritus, would begin leaning back. This wasn't just wisdom from a spectator, either. Chuck was soon to complete a similar maneuver in passing the reins as President and CEO of PMMI to Jim Pittas in what would be a seamless transition.
But realistically, nothing lasts a quarter of a century without evolving. And this past 25 years has arguably represented the fastest pace of change in human history, given the Internet revolution. The vintage look of the first edition of this magazine (shown), in tabloid size no less, clearly demonstrates the amount of honing, shaping, and polish Packaging World has undergone over these 25 years. To survive and thrive, our content now exists as prominently online as it does in print, is sent via e-newsletter, is shared and commented on via multiple social media platforms. Rumors of an all-new website in 2019 are gaining momentum, so keep an eye out—more on that later this year. The bottom line is it's not the Packaging World editor's job to preserve a venerable stalwart, but to shepherd it through change. Pat Reynolds has deftly done so in taking the magazine to where it is today, ushering it through the countless transformations along the way. Now as we celebrate our 25th year, and as we settle into a new look and design debuted in our PACK EXPO issue a few months ago, I'm happy to introduce a few more features we think improve the PW editorial coverage.
I'm perhaps proudest of our new Editorial Advisory Board, which consists of a strongly representative cross section of our readership. Members of the c-suite, packaging engineers, marketers, and packaging designers are represented. CPGs, food and beverage, pharmaceutical, and even co-manufacturers/co-packagers are on board. And there's even at least one or two millennials among the group. I'll rely on this team to direct our editors to sources, tip us off to new trends, and generally act as industry touchstones to ensure our content remains relevant to you, our readers, as we evolve.
After convening this group for the first time at PACK EXPO International, it became clear that while we have been covering certain topics fairly extensively, it wasn't always evident at a brief glance. We've added a keyword bar, called "What you'll learn," on our print feature stories. This bar is meant to make more explicit what kinds of on-trend info might be hiding deeper in some of our features.
You'll also notice our commitment to connecting you to outside resources, many of which exist at the joint between you and your OEM suppliers at PMMI. Whether these are Business Intelligence reports and whitepapers that feature free executive summaries for non-members, or OpX work products meant to create a more perfect union between you and your supplier, or even outside surveying and polling from agencies like Euromonitor, we aim to provide you with resources and additional industry context to accompany our articles. And that content is sure to be accessible with our quick link pwgo.to/ URLs—they only take a second to type into a browser bar, and prove useful in their precision, even in the age of Google.
No magazine ever got better by staying the same. Joe mentioned some of the big benchmarks and inflexion points along the way over the first 25 years, and there are sure to be many more in the coming years. I'm excited to begin to navigate the next quarter-century here at Packaging World. See you at PACK EXPO Las Vegas.