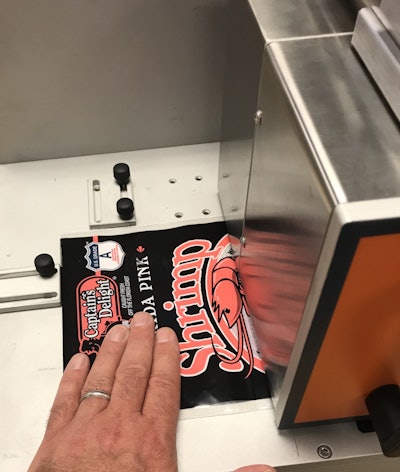 Show Daily Exclusive -Thermal-transfer overprinting (TTO), the somewhat more advanced offshoot of traditional thermal-transfer printing, currently ranks as the most common way to print clear, durable, press-quality codes, text and graphics on flexible packaging (e.g., the "Best By" dates on bags of potato chips).
Generally integrated directly on packaging machines, the units print everything from simple alphanumeric codes to advanced 2D barcodes and graphics. "Near-edge" thermal printheads achieve higher resolution at much greater speeds than thermal-transfer label printers. Printing directly on packaging film eliminates the need for preprinting variable information or labeling.
APPLICATION SPECIFIC
At FlexPackPRO (Booth S-2467), a printer company focused exclusively on TTO technology, there is a push to develop a greater variety of inline systems, as well as offline units, which print codes and variable information directly on pre-formed bags, pouches, product sleeves and other materials previously requiring labels.
With nearly 75% of the world's flexible packaging consumption and its inherent date and lot coding requirements, food products dominate the TTO space. And as more brands of everything from salty snacks and confectionery to frozen chicken and sliced cheese move into consumer-facing flexible packaging, the need for application-specific TTO models has never been greater.
Matching the printer to coding, packaging and line requirements eliminates waste. For example, many end users buy an industry-standard 53mm-wide (2.09-in.) TTO unit, but may be printing an expiration date that's only 25.4mm (1-in.). Therefore, they're using a printhead (and thermal-transfer ribbons) twice as wide as needed and significantly overpaying for equipment, parts and ribbons.
Three TTO options from FlexPackPRO offer a narrower (and less expensive) 32mm (1.26-in.) printhead. One all-electric model serves areas where factory air is not available. Each model lists for less than half of the cost of the average 53mm-wide TTO unit on the market.
INNOVATIONS
There has been a strong move toward pre-formed flexible packaging with stand-up pouches leading the way. The pre-formed designs traditionally require a label containing preprinted date codes, barcodes, ingredient panels, logos or other variable information.
Not only do labels add cost, but loading blank labels into a tabletop printer, finding and modifying the label design on a computer, printing and rewinding the labels, transporting rolls to the production area and applying labels to each pouch add a significant amount of time to the process. And in the end, the label itself is often an eyesore. Recognizing the growing need for small- and mid-size brand owners to eliminate labels and print variable information directly on preformed pouches and bags, FlexPackPRO developed standalone printing systems.
The TableTop TTO model manually prints digital-quality, high-resolution barcodes, text and graphics directly onto bags and pouches of virtually any size. The required images are loaded via a user-friendly touchscreen, allowing the operator to select among as many as 5,000 saved designs within seconds. A variety of models serves needs from the smallest code to a 4 x 5-in. panel.
For higher volume applications, TTO-mounted feeder-conveyor systems print flat sheets, cards, bags and pouches (including zippered and gusseted stand-up pouches). The compact FCS-1 friction-feeder/conveyor prints an area up to 4 x 3 in. at 30 packs/min. The FCS-2 vacuum pick-and-place system handles a greater variety of bag sizes and configurations with a maximum print area of 4 x 10 in. at 60 packs/min. Custom FCS systems accommodate higher volumes and print speeds.
THE FUTURE OF TTO
With the bullish outlook for flexible packaging, the future for TTO looks rosy. Its high-quality print and good economics make it likely that it will remain a go-to technology for printing date codes, lot codes, barcodes, text and graphics on packaging film.
For more information, visit www.flexpackpro.com. SD