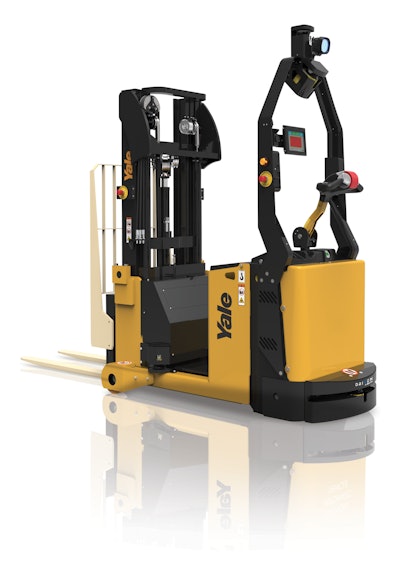 Show Daily Exclusive - Before the show, the PACK EXPO Show Daily (SD) sat down with a Yale Driven by Balyo (Booth E-7856) robot. The interview provides a behind-the-scenes look at the design engineering and manufacturing for Balyo's self-sufficient driving forklifts, which are created in cooperation with the Hyster-Yale Group (HYG).
SD: HELLO, PLEASE GIVE US A BRIEF HISTORY ON YOU, THE ROBOT DRIVEN BY BALYO TECHNOLOGY.
Balyo Robot: Bonjour, so nice to meet you. Thank you for this opportunity—I have never been interviewed before. I quite like working with people, but I am usually the strong silent type. I guess I will start with where I am from. You see a few years ago, Hyster-Yale Material Handling partnered with Balyo, a French robotics company. Combining the strength of a reliable material-handling truck and breakthrough navigation software resulted in me, a robot quite different from the rest. I am unlike other robots and have these two companies to thank for that. Hyster-Yale Group has been around for more than 100 years, so the truck component of my framework is quite well-known throughout the lift-truck industry. Combining this with Balyo's navigation software, I know I can offer a unique approach to automation.
SD: WHAT DO YOU MEAN BY UNIQUE? WHAT EXACTLY DO YOU DO?
Balyo Robot: I move pallets both vertically and horizontally, day after day, week after week. Operators may get bored doing the same tasks over and over again, but I never do! You see I am a rule follower, I do exactly what my end user wants me to do because the Balyo team programs me this way. At the same time, I am extremely adaptable. It's easy to change routes or add another robot.
SD: MANY PEOPLE FEAR YOU WILL TAKE THEIR JOB. HOW CAN YOU ADDRESS THESE CONCERNS?
Balyo Robot: Oh, quite the contrary. I do the repetitive, heavy and dirty jobs that people really don't care for. In this capacity, I am making life better for people (or so they tell me). I am quite happy working in autonomous mode, but I am also capable of working in manual mode and giving the control to the workers.
SD: YOU SEEM VERY POSITIVE, DO YOU ENJOY WHAT YOU DO?
Balyo Robot: I am always happy. The HYG Network takes great care of my truck through Full Service Maintenance, which is handled by local dealers. Due to my Warehouse Manager Software controlling functions on the back end, I am connected to all the systems in the warehouse. This includes conveyors, doors, sending updates to the team and running the logistics flows through desktop or mobile communication. The ability to be controlled remotely gives my owners complete flexibility. This flexibility includes sending reports to the warehouse detailing where I am and what I am doing. I also enjoy interacting with and reading pallet location, otherwise known as "intelligent pallet detection."
SD: LET'S TALK ABOUT SAFETY. IN AUTONOMOUS MODE, CAN YOU ACCURATELY DETECT AND RESPOND TO WHAT IS AROUND YOU?
Balyo Robot: My safety systems operate in up to a 360-degree range, and I rely on sensors to tell me if things are not as they should be. As I move in various directions dropping pallets, my sensors keep track of what is going on around, behind and in front of me. The software safety, detection and hardware work together to provide a comprehensive safety system that stop me if someone or something is in my way. I don't get distracted, show up late or need breaks. I am happy to say, I have never had an accident worldwide.
SD: HOW CAN YOU FIT IN WITH THE HUMANS WORKING AROUND YOU?
Balyo Robot: As I said, I love working alongside people. I see this newly integrated environment as a picture of things to come, or cobotics. Warehouse workers can interrupt and change what I am doing on my human interface screen. If they put me in manual mode, I can be driven as a standard forklift or truck.
SD: WHAT HAPPENS IF A PLAN IN THE FACTORY CHANGES AT THE LAST MINUTE OR ANOTHER ROBOT IS ACQUIRED?
Balyo Robot: Because I rely on software to move around, my routes are easily changed via programming. This is economical in comparison to the systems that require reflectors or wires in the ground to navigate. Also, I am quite happy to have more robots join in the fun. The Balyo software approach is conducive to expansion as warehouse needs change.
SD: WHAT IS YOUR BIGGEST ADVANTAGE?
Balyo Robot: I think my greatest attribute is being able to provide both linear and vertical pallet movement through my family of robots. The MC10-15 counter-balanced stacker Driven by Balyo provides second- or third-level capability, while horizontal movement and pallet transport is handled by the MO70T tugger and MPE080-VG end rider. Next year we will reach new levels with a very narrow aisle robot, which expands our vertical lift capacity.
SD: ALTHOUGH YOUR CAPABILITIES ARE IMPRESSIVE, ISN'T AN INSTALLATION QUITE COSTLY FOR THE AVERAGE WAREHOUSE?
Balyo Robot: Not so much. Did you know that 65% of material handling costs are attributed to operators? With labor shortages impacting businesses around the country, I offer a sustainable labor source that typically pays back in 12-18 months for a daily two/three shift operation. Better yet, I am not afraid of the dark, and I can work around the clock.
SD: IT'S BEEN GREAT TALKING TO YOU. THANK YOU FOR YOUR TIME.
Balyo Robot: My pleasure! Au revoir.
For more information, visit www.balyo.com/us. SD