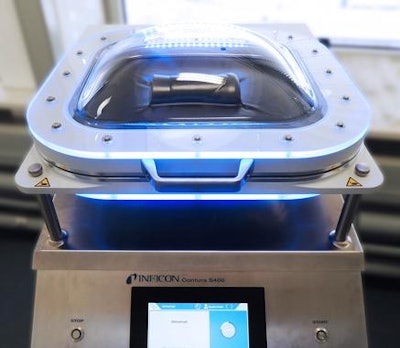 Keep packaging leaks at bay with INFICON's Contura S400 leak detector. Introduced to the North American market at PACK EXPO International 2018, this nondestructive leak detection technology is designed to enhance the food safety and shelf life of food products packaged in modified atmosphere packaging and flexible packaging.
The Contura S400 leak detector a faster, easier, quantifiable and cost-effective alternative to water baths and gas-based testing. It features a foil chamber that consists of two highly elasticized membranes. By creating a vacuum, these membranes tightly enclose the tested package. The device analyzes the pressure increase in a few seconds. In doing so, the Contura S400 is able to detect fine and gross leaks quickly and reliably, avoiding the need for two separate machines. In addition, the system does not use test gas and eliminates the damage to packaging that can occur with other leak-detection methods.
The Contura S400 is designed for a variety of foods, including coffee, meat, poultry, bake goods, snacks, confectionery, cheese, grains, prepared foods and produce.
Companies in this article