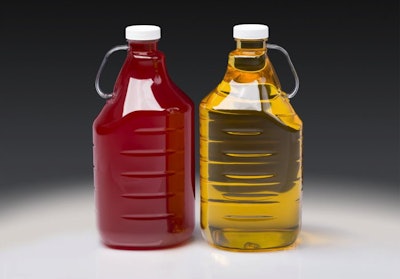 It's the year of the handle. Of IOPP's 2018 AmeriStar Awards Top Three finishers, two are large beverage containers that can be molded--one blow molded, the other injection molded--with an integral handle. This had been possible with PETG, a resin 7 that wasn't friendly to recycling streams. But these winners are using easily recyclable PET, a leap forward.
Rounding out the Top Three, is a design that allows for easy customizability with a strong experiential element.
Top Three
Best In Show was awarded to SureHandleTM PET Containers from Pretium Packaging, featured earlier this year inPackaging World. The one piece graph style sure handle packaging give brand owners a new option for larger PET containers with handling convenience. Available in monolayer PET, facilitating the recycling stream, the containers come out of the injection mold with the integrated handle already in place. The containers offer improved pour controland offer enhanced topload capabilities. What's more, asPackaging Worldalso reported earlier this year, the SureHandle is approved for HPP use.
The Sustainable Packaging award went to Coca-Cola Co.'s 89-oz Simple Beverages line of juices and lemonades, which as previously reported inPackaging World, shifted from resin code 7 extrudable PETG materials to resin code 1 PET (EBM). The resin can still be blow molded with a integral handle, but is significantly easier for materials recovery facilities (MRFs) to process and recycle.
The Design Excellence award went to Artistry Signature SelectTM Personalized Serum from Amway. Customers can select up to three concentrated amplifier caps to target their unique skin concerns and mix them into the base serum. A high barrier closure and nitrogen environment protect the concentrated amplifiers until they are used. To activate the technology, end users simply twist the amplifier on the base serum bottle, and slowly twist it off.
Remianing categories and awards can be viewed on IOPP's website. Click here for the full complement of awards.
Companies in this article