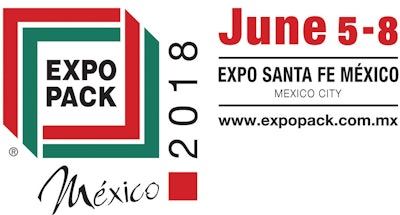 Coming from humble beginnings in 1985, with only 20 exhibitors sharing merely 1,000 square meters in the inaugural show, EXPO PACK Mexico has grown into the main attraction when it comes to packaging and processing in Latin America.
More than 23,000 buyers will converge, June 5-8, on Mexico City's Expo Santa Fe Mexico, each seeking out the latest technologies from more than 1,000 companies spanning over more than 200,000 net square feet. Meanwhile, attendees will include buying groups from the Mexican States of Puebla, Queretaro, Guanajuato, Morelos and Estado de Mexico, plus international attendance from Guatemala, Costa Rica, Colombia, and more.
PMMI, owner and producer of the exhibition, notes that the professionals who attend the show come from a wide range of industries, including food, beverage, pharmaceutical, personal care, and more. These industries track extremely well with trends identified by PMMI's Vision 2025 and late 2017's Evolution of Automation industry research reports.
"Greater health awareness, convenience, and cost are the packaging preferences and key factors among Latin American consumers as confirmed by the Vision 2025 research," says Gerardo Barajas, EXPO PACK Director. "These trends determine the technologies and solutions that you can see in our show."
These solutions are focused on the trends that drive the growth of the industry, such as labeling, coding and serialization, food safety technology, sustainability, snacks trends, advances in automation and processing. This includes safety line equipment designs for the food, beverage, pharmaceutical, cosmetic, and petrochemical industries; flexible manufacturing systems for the pharmaceutical, food, and confectionery industry; 360° needs analysis from health-food safety, production, engineering, financial, security and sustainability approaches; and novelties for craft beer packaging that seek to optimize production processes.
Barajas notes that it's an opportune time to be looking for new solutions, as Mexican demographics shift to include a larger workforce to fill a record number of new jobs, resulting in economic growth and changing consumer needs. As these shifts occur, Latin American businesses are expected to change with the times.
"Those attending EXPO PACK 2018 will be in direct contact with state-of-the-art packaging and processing technology. They will discover solutions and trends for various industries and will be introduced to the most innovative equipment," he says.
Simultaneous programs during the show will include:
• Stellar Packaging AMEE 2018: Contest results recognizing innovative packaging
• Innovation Stage: Free conferences on trends and cutting-edge technologies (see full Innovation Stage schedule here)
• EXPO PACK Green: Entering its eighth year, this program supports and disseminates sustainable technology in packaging and processing
Locally, EXPO PACK Mexico has the support of the leading national and regional trade associations, including The Mexican Packaging Association (AMEE), The Mexican Chamber of Processed Food (CANAINCA), The Mexican Chamber of Perfumes, Cosmetics & Toiletries (CANIPEC), The Mexican Chamber of Pharmaceutical Industry (CANIFARMA), National Chamber of Industry Graphic Arts (CANAGRAF), National Chamber of Metal Containers (CANAFEM) and The National Chambers of Commerce, Services, and Tourism (CANACO).
For full details, including registration information, please visit www.expopack.com.mx
Companies in this article