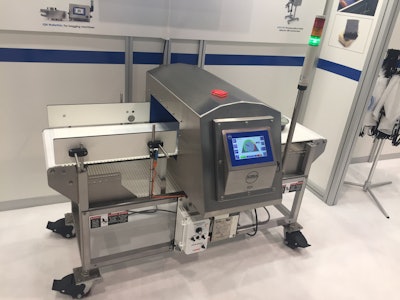 Loma Systems used PACK EXPO to continue the introduction its IQ4 series of Metal Detectors. Loma's engineering teams have employed its company's "Designed to Survive" philosophy to deliver high metal detection sensitivity in a package that the company says is easy to install, easy to use, easy to clean and maintain, can withstand the arduous food production environment, and ultimately brings a strong cost of ownership profile. It also features optimized detector mechanics, true variable frequency technology, and progressive electronics.
"There are metal detectors on the market that are using multi-spectrum-style designs that use multiple frequencies at a time, but that adds cost and it adds complexity," says David Arseneault, North American sales manager. "For us, we use variable frequency, but we're having the metal detector work off of multiple algorithms in the background, so it simplifies things for the operator. So we get the performance, but at a lower barrier to entry for the operator."
Also, a better, faster Auto-Learn brings considerable performance gains over previous generation IQ3 search heads. Even in challenging applications, such as a heavy-metalized film product, great sensitivity can be set-up with Auto-Learn and inspected without the need for further optimization.
An improved lip and screen, a new sealing arrangement, proven ultra-harsh mechanics and a IP69K(+) rating makes the IQ4 search heads hygienic; easy to clean; and super-tough being able to survive harsh food production environments, whether they are hot, freezing cold, dry, dusty or wet, or a combination of them all!

A new 7-in. color touchscreen as standard on every model, a crisp and freshened up interface, and enhanced functionality help deliver a much-improved user experience, helping to minimize user errors and make light work of inspection.
Companies in this article