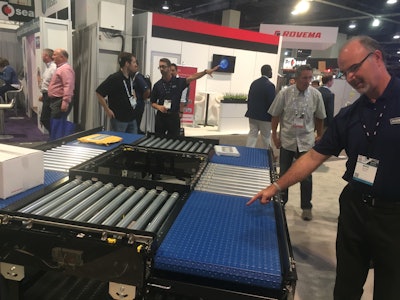 Regal Beloit used PACK EXPO 2017 its MODSORT modular transfer and diverter station in their booth (S-8022). This new transfer eliminates the need for a lift or pneumatics and can be easily integrated into new or existing material handling systems with the ability to transfer a wide array of products.
The MODSORT station features the System Plast™ 2253RT roller top belt, which allows it to uniquely transfer and divert packages based on the sphere's vector speed and direction while also featuring a 1-inch, on-center sphere array to allow for very small packages to be diverted. The station can divert on the fly or stop and divert at a true 90-degree angle, and is ideal for polybags and small packages while also easily handling boxes. MODSORT stations can be placed end to end to create a medium-rate sorter or integrated with conveyors to create transfer stations within conveyor systems. Customization is possible for picking and packing stations within the modern distribution center. Additionally, retrofitting the station into existing conveyor systems is also possible.
"Through a rigorous process to understand customers' and integrators' pain points, we've been able to develop a product that meets their needs through a transfer and diverter station that is simple, has the flexibility to transfer a wider range of products and is easy to maintain," said Mike Suter, vice president of marketing, Regal Beloit Corporation. "Due to the flexibility, this station eliminates the need for a tray required on a pneumatic pop-up converter to transfer polybags, which continue to increase in popularity today due to recent changes in shipping costs."
In addition to reducing shipping and handling costs associated with using a tray totransfer polybags, MODSORT can help achieve energy savings between 50 and 60 percent compared to traditional conveyors when integrated with a motorized roller-based conveyor system.
Companies in this article