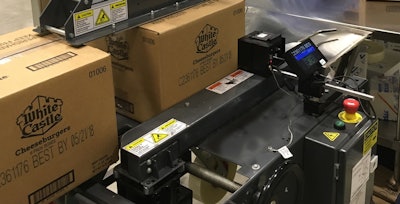 Digital Design, a leading manufacturer of marking and coding products, announced the latest innovation in their Evolution™ thermal inkjet product line, the Evolution IV™, providing the ability to print up to 1" alpha/numeric characters, as well as barcodes and graphics, with a single printhead. Manufacturers printing on secondary packaging that require a one-inch print can now do so without adding additional printheads, benefiting from crisper codes, easier system setup that runs with little-to-no maintenance, and lower total cost of ownership.
The Evolution IV, like its predecessors in the Evolution product line, uses thermal inkjet (TIJ) technology to deliver a high-resolution print with a clean, self-contained system that is easy to install in just minutes. The Evolution IV is the first system of its kind to pair a one-inch printhead with an integrated ink supply in a 128-mL cartridge. The proprietary cartridge design, conceived and developed by Digital Design, decreases the time required for cartridge changes, reduces downtime on the packaging line, and eliminates the maintenance and repair schedules required of other types of inkjet technologies.
"This was the natural next step in Digital Design's promise of providing our customers with cost-effective and high-quality case coding solutions," explains Ed Gerri, Vice President and General Manager of Digital Design. "We've employed proven technology based on the complete line of Evolution printers as the foundation for the development of the Evolution IV, and created a significant advancement in usability and quality."
The Evolution IV was specifically designed for case coding or case marking applications that require taller print, crisper bar codes, and larger graphics. As with the complete Evolution product line, the Evolution IV can incorporate multiple printheads controlled from a single controller, extending the solution to address the needs of most case coding scenarios.
Use case at White Castle
White Castle®, the maker of The Original Slider® hamburgers, has been using the Evolution IV to mark packages of their famous patties destined for grocery and convenience stores. Johnathan Hopkins, Lead Maintenance Technician at the White Castle plant in Vandalia, Ohio, was happy to find a one-inch alternative to the ½" prints they had been using before, and was pleased with the ease of setup and operation. "The new one-inch Evolution IV printer is simple to setup and use," says Hopkins. "The larger print is easy to read from a long distance. My favorite quality is how quick and easy you can change the print height to accommodate for different products, without changing equipment."
Evolution products are offered through an extensive network of value-added distributors and resellers. Guy Harmon of Associated Packaging, is an Evolution distributor that specializes in packaging equipment and materials. Harmon says he is very enthusiastic about no longer being limited to one-half inch print height or the cumbersome stitching of multiple print heads to create a taller character, barcode or graphic image.
"The simplicity, cleanliness and reliability of the Evolution IV, coupled with taller print height makes it an excellent choice for packaging operations teams looking to streamline their marking and coding processes," says Harmon. "The Evolution IV eliminates expensive printhead repairs, messy ink-laden conveyors, and unnecessary production line downtime."