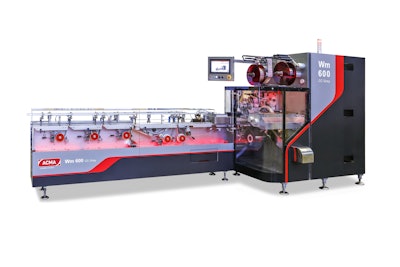 Italian machine builder ACMA, part of the Coesia Group, is focusing on confectionery markets at its booth, C-3800. One of the latest machines developed for this arena is the CW 600 F, an alternate motion, multi-style wrapping machine for flat-bottom chocolates. The CW 600 F is designed to meet the specific needs of confectionery brands that require medium speeds of up to 600 strokes per minute, lots of flexibility for changeovers, high wrapping quality, and ease of use. Wrapping styles available include bunch, double twit, Boero, wallet, fancy, and more, and accommodates all the typical wrapping materials. The machine also can independently unwind two separate wrapping materials, so it will accommodate inner and outer wraps of different sizes. The compact, space-saving layout allows it to integrate within diverse production environments where square footage is valuable. Plus, a cantilevered structure and use of brushless motors facilitate operation, maintenance, and cleaning.
ACMA also is showing the next generation of it low barrier-to-entry 880 model, known for its ease of use and reliability. This latest edition, the new CW 800 R, is an intermittent motion machine dedicated to oval and spherical chocolate, which are among the most requested shapes. The CW 800 R is characterized by a sturdy and compact frame and by an increased wrapping quality. It is able to manage two wrapping styles—double twist and rolled—with a fast changeover.
While these two machines were headliners at the show, ACMA's confectionery machine portfolio covers the full gamut, including high-speed models, such as the CW 850 R - a multi-style solution, HS 1000 and GS 1000 stick machines, tray formers, overwrappers and vertical packaging machines.
Companies in this article