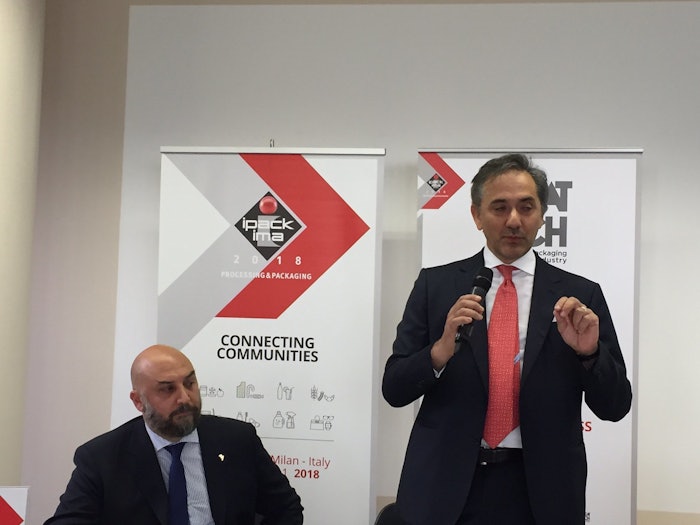 "The 2018 edition will mark a major turning point for the show," said Riccardo Cavanna, Chairman of the show management company. "Following the acquisition of the show management company by UCIMA (Italian Automatic Packaging Machinery Manufacturers' Association) and Fiero Milano, the event's strategies have been redefined with the aim of further expanding its international scope and making the Italian show a key appointment for industry professionals keen to discover the latest technological innovations, the highest performing materials, and cutting edge logistics solutions." Joining Cavanna at the press conference was Domenico Lunghi, Managing Director of the show's management company, who reminded the audience that IPACK-IMA 2018 will be joined by other shows in a co-location arrangement. "This is a major new project that brings together five important shows: PLAST, PRINT4ALL, MEAT-TECH, and INTRALOGISTICA ITALIA, as well as IPACK-IMA itself," noted Lunghi. More than 150,000 visitors are expected at Fiera Milano during the May 29-June 1 run of IPACK-IMA in Milan, Italy.
Collaborative robots have been the stars of the past few packaging-related trade shows, as one robot supplier after another saw what Rethink Robotics and Universal Robots were doing and decided it was time to get in on the "cobot" game. One interesting development at interpack was the presence of at least two exhibitors who were featuring cobots capable of handling a considerably heavier payload than the cobots we've seen earlier.
At ABB Robotics the robot-monitoring software being debuted was SafeMove2. "Historically, fences or cages have been used to separate man from machine in an effort to keep them out of harm's way," says Dr. Hui Zhang, Head of Product Management, ABB Robotics. "SafeMove2 allows robots and operators to work more closely together by restricting robot motion to precisely what is needed for a specific application."
Meanwhile, at Gebo Cermex, a "fenceless cobotic" version of the FlexiLoad robotic solution for loading a case packer's magazine feed featured a Fanuc CR35 Robot. It's capable of handling a 35-kg payload, which makes it, says Gebo Cermex, "the world's strongest collaborative robot." The reason it's collaborative and fenceless is because special sensors detect how close the nearest human is. A series of zones are in place. If a human is sufficiently far away, the cobot operates at its full speed and a green light shines on its end effector. Come closer and the light turns to yellow and the machine slows down. Come closer still and the light turns to red and the machine stops altogether.
There was no shortage of stretch wrappers at interpack, and one that was especially notable was the Ring-250, a ring-style stretch wrapper from Wulftec. It was impressive for the 30-inch wide film roll it uses to apply stretch film to pallet loads. Wulftec claims 20 inches has been pretty much the limit so far until this machine was developed. Because the stretch film is applied from a wider roll, the machine doesn't have to work as hard, says Guy Lopes, Director of Operations at Wulftec.
Companies in this article