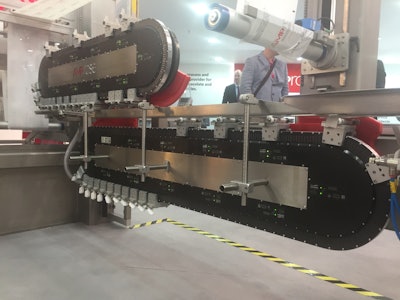 Growing consumer demand for combination/multi-/sampler packs is evident among machine builders exhibiting at interpack. A recurring theme has been OEMs' use of motion control track systems leveraging independently moving cart technologies, magnetically driven, to address the complexity involved with collating multiple different products in different stacks and combinations.
Festo and Siemens' joint Multi-Carrier System (MCS) project is in action at the COESIA exhibit, specifically on an original, cosmetics-focused machine by SACMO. The company required a filling and capping machine with the flexibility to handle increased SKU proliferation. The builder aimed to get different functions with different time scales off of a constrained time increment. SACMO found Festo and Siemens' MCS, with independently movable carriers, to be the solution.
Bradman Lake, Rock Hill, S.C., is debuting a packaging line composed of a VGR2000 vision-guided robotic pick-and-place line, which loads products into the infeed of an FT120 Multipack Flow Wrapper using two robots. After the required collation has been created and flow wrapped, the products enter the IMSL End Load Cartoner, the company's latest machine. The compact-footprint IMSL incorporates a Rockwell Automation iTRAK unit to create a fully integrated product infeed system that uses minimal product transfers.
Rockwell also was beginning to demonstrate a MagnaMover LITE transport system tailored for lighter loads, and should have application in serialization environments.
A.M.P Rose is demonstrating its own X-Pax two-in-one flowpack and case packer, complete with Beckhoff's XTS (eXtended Transport System). The story was the same; AMP Rose customers are looking for ways to handle comparatively complex collation for multipacks.
B&R demonstrated SuperTrak – another versatile, intelligent conveyor system. This smart manufacturing revolution promises CPG producers unprecedented levels of OEE and reduced TCO.
SuperTrak is a new generation of robust, operator-friendly intelligent conveyor technology based on long-stator linear motors. B&R says this system is unique in offering true industrial-grade reliability and easy serviceability. Its independently-controlled shuttles allow mass production of highly customized products, while also minimizing time lost on stoppages and product changeover.
Even upstream food processing company Weber, which concentrates on slicers, is showing its Weber Shuttle System (WSS), aimed at multipacks of cold cuts and other meats.
Companies in this article