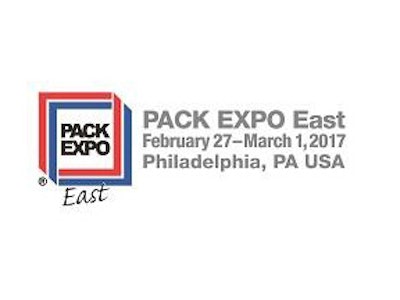 While food and beverage remain the largest sectors in terms of packaging machinery needs, no market can keep pace with the pharmaceutical growth forecast through 2020, according to the 2016 State of the Industry U.S. Packaging Machinery Report. Produced by PMMI, the Association for Processing and Packaging Technologies, the report projects pharmaceuticals to grow at a CAGR of 2.8 percent through 2020, surpassing $700 million for the first time.
The greatest influence on growth in the pharmaceutical industry is general economic development. As more people can afford access to drugs, this will, in turn, drive growth in packaging and packaging equipment for pharmaceuticals. And, as the U.S. population becomes more health conscious and adopts healthier lifestyles, life expectancy is increasing and creating a greater demand for medicines for the elderly.
Another factor driving a rise in the market is the pharmaceutical industry's willingness to investigate and adopt new technologies. One of the recent developments in this sector is packaging machinery without electrical cabinets or cabinet-less machinery. The servo modules within the control architecture for robots, significantly reduces the number of electronic parts, eliminating the need for some cabinets. Benefits of this include lower maintenance costs (due to reduced electronics), greater efficiency and the availability and use of identical system parts.
Should this technology prove successful in the pharmaceutical sector, other markets that are typically slower to adopt new technologies may embrace it as well.
The most efficient way to find innovations that serve pharma with the potential to cross-pollinate other industries is PACK EXPO East (Feb. 27–March 1, 2017). Located in the heart of the country's largest concentration of life science and pharmaceutical companies, Philadelphia's Pennsylvania Convention Center expects over 7,000 attendees to exchange ideas with 400 exhibitors across 100,000 net square feet of exhibition space. The site also positions PACK EXPO East within 200 miles of one-third of U.S. consumer packaged goods companies (CPGs) in the industry-rich Northeast.
In addition to a robust index of exhibitors, the Innovation Stage at PACK EXPO East offers free 30-minute education sessions directly on the show floor, including fresh looks at new technologies provided by exhibitors and industry experts.
The two-day Healthcare Packaging and Processing Conference (Feb. 27 and 28) is another offering at PACK EXPO East for the expanding pharma market, with nine tracks of sessions and technology workshops. The first day of the program highlights Serialization, Packaging Challenges and Strategies for Success Materials Testing, Packaging Machinery Automation, Government Regulatory Updates and Packaging and Processing Automation Control. Day two tackles Track and Trace Unique Device Identifiers, Supply Chain Security and Temperature Management, Serialization Pilot Tests and CMO's Role, as well as Life Sciences Processing. Conference registration is $95 per seminar and includes access to PACK EXPO East. After Feb. 10, the price increases to $130 per seminar.
Registration for PACK EXPO East is $30 for a limited time. Price will increase to an on-site fee of $100. Register online at www.packexpoeast.com.