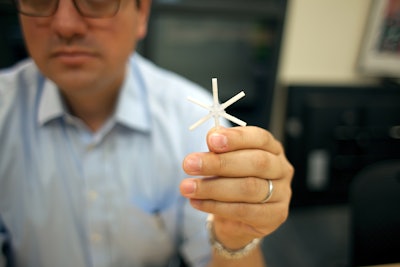 No matter how effective a drug is, its treatment success depends on patient adherence. This tends to be a problem for drugs taken orally, which pass quickly through the body and are exposed to harsh conditions in the stomach and intestines.
After years of research, a team from MIT and Brigham and Women's Hospital have developed a new drug capsule that remains in the stomach for up to two weeks after being swallowed, gradually releasing its drug payload. The researchers hope that this drug delivery method could replace some medication regimens that require repeated doses.
The researchers knew the capsule had to be stable enough to survive in the stomach, deliver the drug consistently, and break down and pass through the digestive tract safely once delivery was complete.
The team designed a star-shaped structure with six arms that can be folded inward and encased in a smooth capsule. According to MIT News, "Drug molecules are loaded into the arms, which are made of a rigid polymer called polycaprolactone. Each arm is attached to a rubber-like core by a linker that is designed to eventually break down."
Once the capsule reaches the stomach, acid dissolves the outer layer to allow the arms to unfold. The team designed the star to be large enough to stay in the stomach, but not so large that it causes a blockage in the digestive tract. After two weeks, the linkers dissolve, which causes the arms to break off in pieces that are small enough to pass.
The study was published in the Nov. 16 issue of Science Translational Medicine. The star-shaped capsule was used to deliver ivermectin, which kills any mosquito that bites a person who is taking the drug, to target the spread of malaria and other mosquito-borne illnesses. The research was funded by the Bill and Melinda Gates Foundation, the National Institutes of Health, and the Max Planck Research Award.
Other uses
While the team focused their efforts on malaria for studies, "This is a platform into which you can incorporate any drug," notes MIT postdoc Mousa Jafari. "This can be used with any drug that requires frequent dosing. We can replace that dosing with a single administration."
The technology may help in clinical trials by improving patient adherence, and amplify the effects of drug administration campaigns. Mathematical modeling has suggested that using this method to deliver a combination of ivermectin and antimalaria treatments to 70% of a population in a mass drug administration campaign to reduce transmission could be as effective as treating 90% of a population with antimalaria treatments alone.
The study has led to the launch of Lyndra, a Cambridge-based company that is developing the technology with a focus on diseases for which patients would benefit the most from sustained drug delivery, including neuropsychiatric disorders, HIV, diabetes, and epilepsy.
"Until now, oral drugs would almost never last for more than a day," says Robert Langer, the David H. Koch Institute Professor at MIT and senior author of the paper. "This really opens the door to ultra-long-lasting oral systems, which could have an effect on all kinds of diseases, such as Alzheimer's or mental health disorders. There are a lot of exciting things this could someday enable."