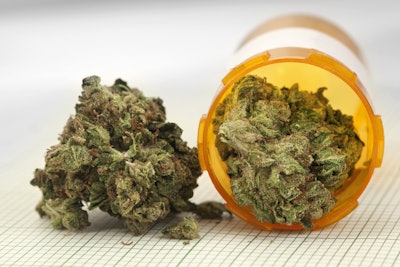 November ballot initiatives
With medical marijuana initiatives unanimously passing in four states, patient access appears to be moving in a positive direction. Arkansas, North Dakota, Florida, and Montana all voted in favor of allowing or increasing patient access, proving that attitudes are shifting even in the South. Additionally, California, Massachusetts, Nevada and Maine passed recreational use initiatives. (Note: A recount has been initiated in Maine, due to the close margin of victory.)
In regards to the election, Nick Kovacevich of Kush Bottles (a packaging supplier that recently unveiled a new certified child-resistant pop-top bottle), noted that this election will be viewed as a tipping point for both the country and the cannabis industry, with regulated, legal systems now in 29 states and Washington, D.C.
"Our nation now sees that legal cannabis is not a Democrat or a Republican issue," he said. "Cannabis is no longer about politics. It is about the benefits of having a regulated industry that provides jobs, tax revenues, and opportunities—with transparency and accountability."
Attorney General nominee
In the face of overwhelming victory for medical cannabis access, I'd be remiss if I ignored President-elect Donald Trump's nomination of Jeff Sessions for Attorney General. As Politico reported, Sessions said in April 2016, "Good people don't smoke marijuana," and that it was a "very real danger" that is "not the kind of thing that ought to be legalized."
It is a concern that a person with these opinions could have the power and inclination to enforce federal prohibition, flying in the face of states' rights and those whose lives are improved by medical marijuana.
Questioning coverage
With any major breakthrough, it's good to ensure that facts are looked at with an objective eye. It's understandable that research and news outlets question the safety and societal effects of medical and recreational cannabis, but it's also good to take a look beyond fear-mongering headlines and stories, whether they're written in earnest or in the search for clicks.
CBS's well-known news show, 60 Minutes, recently aired an episode covering the effects of cannabis in the town of Pueblo, Colorado.
The Denver Consulting Group (DCG) posted a release pointing out potential bias and inaccuracies in 60 Minutes' coverage. The program featured a Pueblo-based doctor providing anecdotal (not scientific) evidence about babies being born with marijuana in their system.
Without citing any specific sources, the show also made the claim that "Research suggests babies exposed to marijuana in utero may develop verbal, memory and behavioral problems during early childhood." Meanwhile, the correspondent did not mention studies that have shown compounds in cannabis have neuroprotective qualities, including an NIH study, Neuroprotective antioxidants from marijuana, that concluded, "In a head to head trial of the abilities of various antioxidants to prevent glutamate toxicity, cannabidiol was superior to both alpha-tocopherol [a form of Vitamin E] and ascorbate [Vitamin C] in protective capacity."
DCG, which offers consulting services for the legal marijuana industry, obviously has a pro-cannabis stance, but this does not change the validity of their observations—namely that scientific claims should be accompanied with sources. The coverage likely would have appeared less biased against the legalization of cannabis if the show had cited sources for its claims, and mentioned positive research results.
Of course, scientific studies should be looked at carefully as well, whether they offer positive or negative findings about cannabis. Who is funding the study? Is the sample size large enough? Are authors claiming causation, when the results only suggest correlation?
With the flurry of new information and regulations, it's important to view any surprising new claims—on either side of the debate—with a healthy dose of skepticism.
Companies in this article