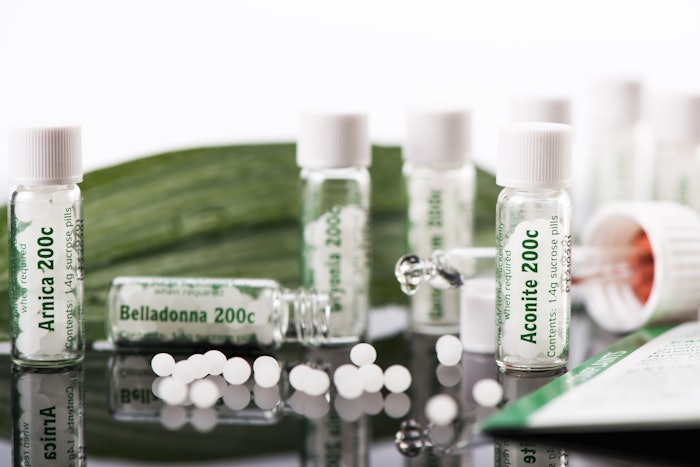 On Nov. 24, Raritan Pharmaceuticals announced a voluntary recall of homeopathic products containing belladonna extract due to the potential for variation in the content of belladonna extract in the products.
In its press released published on the FDA's website, Raritan noted, "The FDA has tested some products and recovered varying levels of belladonna extract content from what is declared on the label. Raritan Pharmaceuticals is a contract manufacturer of these products for Homeolab USA that supplies the belladonna blends to Raritan Pharmaceuticals."
The products in question are as follows:
UPC: 050428424162
Product: CVS Homeopathic Infants' Teething Tablet 135 tablets
(Please note that CVS has already taken a market action on this product as of September 30, 2016) Lots: 41116 and 43436
UPC: 778159090639
Product: Kids Relief Homeopathic Ear Relief Oral Liquid 0.85 fl. oz. Lot: 35254
UPC: 050428441633
Product: CVS Homeopathic Kids' Ear Relief Liquid 0.85 fl. oz. Lot: 33149
A regulatory perspective
Healthcare Packaging's December Legal + Regulatory column, "Homeopathy Gets a Second Look" discussed homeopathic products. Author and columnist Eric Greenberg reported, "The branch of medicine known as homeopathy has long been present like a parallel medical path, inspiring to both loyal practitioners and followers as well as skeptics. It has undergone changes in recent years, and some homeopathic products have received unwelcome attention lately about their safety." He predicted that FDA "at some point will have to untangle the tough questions about whether it should change its approach to the entire field" of homeopathy.
Meanwhile, the Federal Trade Commission in mid-November issued a new policy statement about enforcing standards for homeopathic treatment labeling. The statement said, "In summary, there is no basis under the FTC Act to treat OTC homeopathic drugs differently than other health products. Accordingly, unqualified disease claims made for homeopathic drugs must be substantiated by competent and reliable scientific evidence. Nevertheless, truthful, non-misleading, effective disclosure of the basis for an efficacy claim may be possible. The approach outlined in this Policy Statement is therefore consistent with the First Amendment, and neither limits consumer access to OTC homeopathic products nor conflicts with the FDA's regulatory scheme. It would allow a marketer to include an indication for use that is not supported by scientific evidence so long as the marketer effectively communicates the limited basis for the claim in the manner discussed above."