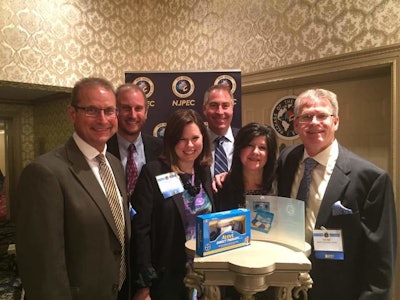 Aleve® Direct Therapy™ TENS™ Device, a safe, drug-free, pain relief device introduced to the market in July, received the New Jersey Packaging Executives Club (NJPEC) 2016 Package of the Year Gold Award within the Personal Care Category.
The Aleve Direct Therapy TENS Device team accepted the award Nov. 17 at the NJPEC awards gala at the Madison Hotel in Morristown, NJ. The awards are judged on design excellence, shelf impact, uniqueness, cost effectiveness and graphic presentation. Judges consisted of marketing professionals, sales representatives and CEOs from throughout New Jersey.
Although Aleve Direct Therapy TENS Device was created to help customers with lower back pain, it also was designed to address packaging concerns among TENS products. "Our team set out to produce a package that allowed customers to see as much of the product as possible without needing to open the box," says Jason Ahleman, Packaging Innovation and Development at Bayer. "After extensive research, we selected a 'display style box' design."
"I am very proud that our team has been recognized beyond just the product itself. Our packaging showcased the innovative design of the product while also providing a safe, reusable holder that uses iconic branding of ALEVE," says Swapna Purani, U.S. Marketing Aleve/Aleve D. "Just like all our products, we made sure that the customer experience was front and center and that they would have a product and package that would be durable throughout its long lifespan."
Aleve Direct Therapy uses the same Transcutaneous Electrical Nerve Stimulation (TENS) technology used by doctors to provide consumers with deep penetrating relief of lower back pain. TENS is a non-invasive, drug-free method of controlling pain that works by delivering stimulating pulses at the site of pain. It is available without a prescription and canbe purchased at retailers nationwide in the analgesics aisle.
Aleve Direct Therapy is indicated for the temporary relief of pain associated with sore and aching muscles in the lower back due to strain from exercise or normal household andwork activities. Aleve Direct Therapy is regulated as a Class II medical device and was cleared by the U.S. Food and Drug Administration. Its unique patented waveform technology can provide deep penetrating relief by blocking the body's pain signals and by releasing endorphins in the areas of pain—the two theories behind how TENS technology works.
"Aleve Direct Therapy puts controllable TENS technology in consumers' hands without having to visit the doctor. It provides high intensity of power and its wireless remote controlmakes it easy to adjust the power of intensity to fit the user's needs," says Andre Schmidt, Vice President, U.S. Medical Affairs, Consumer Health Division. "We are pleased to beable to provide this safe, drug-free and convenient self-care option to help consumers get the relief they need from lower back pain."
Founded in 1962, NJPEC is an organization of packaging professionals from all disciplines in the industry who share information and hands-on business experience.