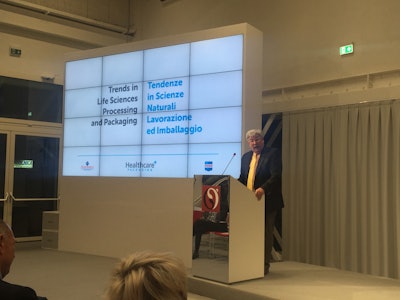 The best new projects in the global pharmaceutical supply chain were honored at Pharmintech in Bologna, Italy during a private reception that included special guest Jim Chrzan, Vice President of PMMI Media Group, who gave an update on the state of the international life sciences industry.
Chrzan explained that the growth of biologics will impact the entire supply chain, where unique solutions will be needed to address critical problems like, temperature control and "last mile" logistics.
As the supply chain becomes more global, and with clinical trials taking places in remote regions of the world, topics like terrorism, natural disasters and weather become important factors when selecting shipping and packaging partners.
The medical device landscape is also changing. Gone are the days that when you think medical device, a pacemaker may come to mind. Now, medical devices include wearable technology that can monitor a patient's vitals and send it remotely to a doctor somewhere on the other side of the world. In the future, that technology will be taken a step further and experts say the device may even be able to administer medicine to the patient.
This new area of data, brings up interesting topics of what to do with all that information. For this reason, cloud storage, as well as automation will play a big part in the life sciences going forward. For example, robots may one day be performing complex surgeries in operating rooms instead of doctors.
Recognizing these new challenges, Pharmintech honored projects both in the academic world and through industry, that are working to solve some of these new hurdles.
In the "Academic World" category, Francesca Vitali was honored for her innovative
work on proteins with the use of bioinformatics approach to several cases of cancer.
Special mentions were given to Carlo Barracchia, for the use of the atomic force microscope to measure the dynamism of the cells in medical and toxicological field, and Giulia Pasotti with a project called "Dome Matrix", a useful idea for the controlled release and compatible substances.
BeeNext grabbed the top spot in the "Newco" category for their project called "Arachno", an innovative system for synthesis with mixtures of various gases, characterized by a wide scope of use.
Special mentions in this category went to PharmaFilm for "Malt-OFast", for their use of bioadhesive maltodextrin and glycerol film for release in the oral mucosas, and Plumestars, which presented "Inhalable antibiotic dry powders", a significant breakthrough dealing with cystic fibrosis.
Four companies were selected for the category dedicated to "Pharmintech 2016 Exhibitors".
Phyllon, a German company specializing in control solutions, presented "Optical Coherence Tomography", an online characterization of tablet coating process.
Cavanna Packaging Group was honored for "Cavanna Ultrasonic sealing", a hypothesis of industrial application in the production machine with elements of objective assessment.
The third winner is was Antares Vision for their "Antares Tracking System", an integrated solution to the international requirements of track & trace.
The final award was presented to, IGB – Industrie Grafiche Bressan, for "Tamper evident folding Box", functional and low cost solution to evaluate and investigate the applicability to fast packaging lines.