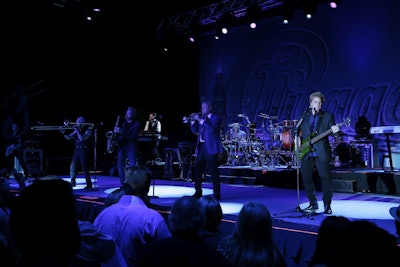 The third annual PACK gives BACK event, held in conjunction with PACK EXPO Las Vegas and Pharma EXPO 2015, raised $50,000 for military non-profit Fisher House Foundation, whose program provides free temporary lodging for families of patients receiving care at major military and VA medical centers. The money will help build comfort homes that allow families of military members and veterans to remain close to their loved ones during a medical crisis.
"PACK gives BACK isn't just a fun networking event, it's a chance to acknowledge and support a great cause," said Charles D. Yuska, president and CEO, PMMI. "Fisher House Foundation does really important work supporting our veterans and their families, and we're proud to be associated with such a wonderful organization."
The Sept. 28 event, open only to PACK EXPO and Pharma EXPO exhibitors and attendees, featured Chicago, the first American rock band to chart Top 40 albums in six decades, and raised money through ticket sales and donations, both on site and online.
"We are so appreciative of the funds raised by the PACK gives BACK event," said David Coker, president of Fisher House Foundation. "The funds and awareness raised will go a long way in helping us reach the next Fisher House community."
Donations to Fisher House Foundation can be made at packexpolasvegas.com/pgb or at Fisherhouse.org.