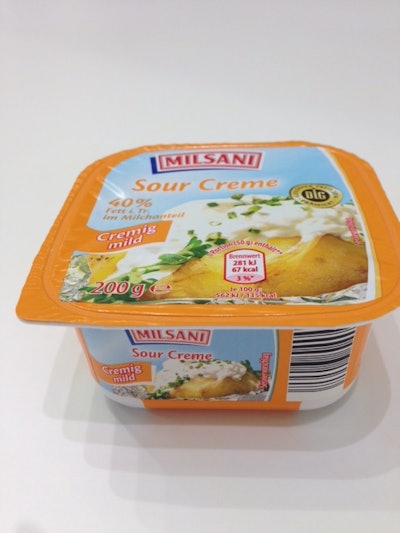 On display at the Illig booth was a Model FSL48, which is an impressive thermoform/fill/seal system that also picks printed blanks from a magazine and applies in-mold labels. First to install the machine is Germany's Heidelblume Molkerei, whose Milsani brand quark (a fresh cheese with flavors) and 200-g sour cream were both on display at the Illig booth. The company produces 200-, 250, and 500-g containers on the one Illig machine. Illig also offers a machine that thermoforms and in-mold labels containers without the filling and sealing functions. It's aimed at commercial producers of thermoformed containers rather than at food manufacturers.
Another impressive piece of equipment, made by Intellifeed out of Minnesota, was at the PWR Pack booth. It was an infeed system, for things like flexible packages of potato chips, that was feeding a PWR Pack robotic case packer. A whopping total of 18 sensors from SICK are deployed so that the position of each bag can be detected. This position information then goes by way of a controller to stepper motors so that they know when to feed bags forward, how to space them, and at what velocity the bags should be sent forward.
One more piece of equipment that was notable was a thermoform/fill/seal machine at the ILPRA booth. Since integrating a Lenze controller and Lenze servo motors last year as a replacement for the industrial PLC that had been used and the pneumatically driven actuation of the forming tools, ILPRA's equipment consumes considerably less energy and is far more flexible when it comes to making adjustments in things like depth of draw. Also notable is that the forming web that was running on the machine is something called formapaper from Italy's Sacchital Group. It's described as a high-barrier, recyclable, thermoformable paper material that is FSC-sourced and is recyclable according to the Aticelca Protocol for recyclable paper materials.
And then there was Bend-Seal from Di-EL Tack Ltd. out of Israel: a roll-fed pressure-sensitive label with an embedded food grade tin strip inserted under the adhesive to reseal a bag. The label is applied after bag making using any standard p-s label applicator. The result is a fold-down style of reseal feature that is inexpensive and easy to incorporate into a package.
Stand-up pouches were predictably abundant at Anuga FoodTec, as they have been at European packaging exhibitions for at least the past five or even ten years. But it's always interesting to see the pouch concept applied to a novel application, which is what visitors found at the Bischof + Klein booth. Cake frosting from H. Pickerd of Germany was in a 125-g spouted standup pouch made by B+K from a three-layer coextrusion of reverse-printed polyester/nylon/polypropylene. The gravure printing in eight colors and the unique shaping of the pouch give this "neu" package all the shelf impact it needs. In the consumer's home, the pouch is inserted into hot water for a few minutes to softenthe contents easily and make the frosting easy to dispense.
Finally, Ecolean of Sweden showed its EL4+ filling machine in action. Ecolean's innovative stand-up pouch for refrigerated or aseptically filled beverages is distinguished by its air-filled handle, which makes the package easy to grip and handle example here. According to CEO Peter Nilsson, this system is able to reach speeds 33% faster than the firm's existing platforms. Also highlighted at the booth was the Ecolean Air Aseptic Clear 250-mL pack example here. Ecolean has offices in a number of locations around the world, and its most recent addition was in Plano, TX. Conversations at Anuga FoodTec made it pretty clear that a commercial application of the Ecolean concept in the U.S. was more a matter of when than if. Watch this space.