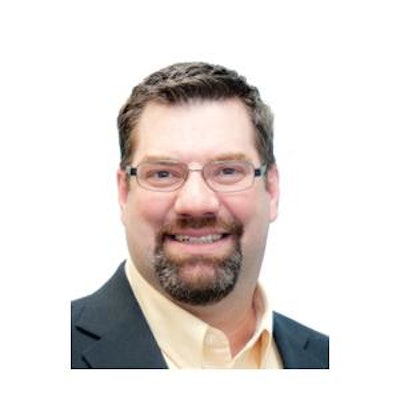 I'll be honest and say that I thought I was. Only to realize just how much ground I need to reclaim in short order.
The 2015 Annual Meeting of the Contract Packaging Association was arguably the most successful meeting in the 23-year history of the organization. Nearly one hundred contract packaging and packaging supply executives convened in Miami in mid-February for three days of networking, collaboration, and celebration of this rapid-growth industry.
One of the most powerful segments from the Annual Meeting was the presentation by Tom Landry of Houston-based Allegiance Staffing Services (pictured). Tom shared some facts of the Affordable Care Act (ACA) and the significant impact the legislation has had on the temporary staffing industry and the overall labor pool. The challenges facing business owners today are becoming more complex all the time. Which is exactly why the availability to resources, through the CPA, is vital to my business and yours.
Fellow CPA Board Member–Director, Eric Wilhelm (CEO-Coregistics), headed up a supply chain industry panel for a lively and interactive discussion about the most important challenges facing brand owners, freight forwarders, suppliers and contract packagers. It provided new insights on this rapidly-evolving marketplace of mass-customization, same-day delivery, consumer-driven supply and the mounting impact these conditions have on the entire supply chain.
As my fellow colleagues in the contract packaging industry continue to collaborate and innovate for tomorrow's reality, I'm thankful to have the opportunity to learn and continue to serve my fellow members of the CPA.
Not long ago, while at a CPA conference, Thomas Bacon (President of Aaron Thomas Company and CPA Hall-of Fame Member) shared a few words with the gathering. He reminded us all that contract packagers have an "awesome responsibility." He elaborated by stating that "many of the finest consumer products companies in the world have entrusted many of us with their most valuable asset…their brand. Let us be thankful for that trust, and let us continue to honor it by taking great pride in the services we offer." Thank you for that, Tom!
In June, my term as President of the CPA shall reach its end. It has been my pleasure to serve you. My parting thought to the membership is a quotation from Benjamin Franklin that I believe epitomizes the actions by the CPA in the past year: "Well done is better than well said."
CPA President Chris Nutley is co-owner and president of MSW Packaging Services, Lawrenceburg, IN, www.MSWPackaging.com