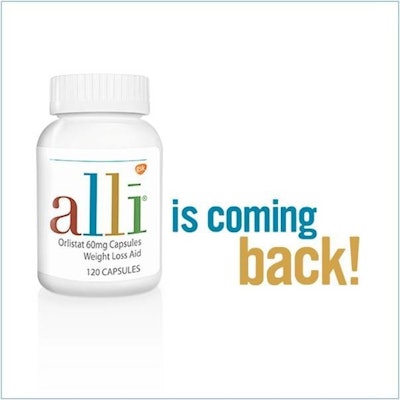 GlaxoSmithKline (GSK) Consumer Healthcare is bringing back alli (orlistat 60-mg capsules) to most stores in the U.S. and Puerto Rico since the voluntary retail recall of the product last spring. Replenished supplies of alli feature improved tamper-evident packaging.The product is said to be the only FDA-approved over-the-counter weight-loss aid clinically proven to help boost weight-loss efforts.
In March 2014, GSK Consumer Healthcare issued a voluntary retail recall of alli when it determined some packages did not contain authentic alli® capsules. The company's review concluded product tampering occurred after the affected product was shipped to retail outlets. GSK Consumer Healthcare continues to support the FDA's Office of Criminal Investigations on their tampering investigation.
"Nothing is more important than the health and safety of those who use our products. The alli product will now feature additional tamper-evident packaging. It's part of GSK Consumer Healthcare's continued commitment to ensure the safety and quality of our products," says Colin Mackenzie, President of GSK Consumer Healthcare North America. "We regret the inconvenience caused for our consumers and retailers, and we are very grateful for their patience as we worked diligently to bring alli back to market."
"We are thankful for the continued outpouring of support for our alli brand, and the great interest to learn when it will return to shelf," says Dennis Sabo, Marketing Director for alli. "We are pleased to get alli back into the hands of our loyal consumers, many of whom have contacted us over the last year to express their loyalty to the brand and interest in being able to purchase it again."
A company press release says alli has already recaptured the leading position among diet supplement brands on major online sites. The alli brand's Facebook page will provide the latest updates about where consumers can purchase alli. The product is for weight loss in overweight adults, 18 years and older when used along with a reduced-calorie and low-fat diet.
GlaxoSmithKline Consumer Healthcare is one of the world's largest over-the-counter consumer healthcare products companies. GlaxoSmithKline is a global research-based pharmaceutical and healthcare companies.
Read previous coverage of alli in Healthcare Packaging at the following two links:
• Package design helping GSK, FDA to identify bogus alli pills