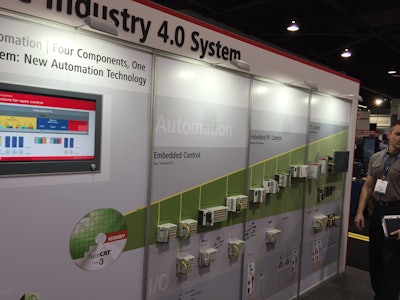 "When we talk about Industry 4.0, we aren't talking about some distant future, we're talking about now – all the technologies needed are available now, and many under this roof at this show," said Niels Ouwersloot, sales, Beckhoff Automation. "And it's visible in physical hardware."
The idea involves the implementation of smart machines (in the same sense as a smart phone that knows where you are and can communicate with your surroundings) in manufacturing settings. Industry 4.0 relies heavily on Ethernet, either cable or wireless, and other identifiers, like RFID, to connect otherwise disparate machines. In doing so, the concept fosters an environment in which machines 'talk' to one another in a quasi-standard language and influence one another for the benefit of the whole system, cell, or line.
But the fact that Industry 4.0 is a current technology doesn't mean that adoption has been immediate. This is partly because individual pieces of equipment are so often purchased without the big picture in mind.
One disconnect that many purveyors of Industry 4.0 have found is getting the communication infrastructure correct from the get go. If an electrician or electrical engineer is tasked with the hookup, that person is not likely to be as well versed as he or she could be on the communications side of coin.
Conversely, if a communications expert is brought in, that person doesn't always understand the importance of shielding, or factors like UV breakdown, EMI, or closeness to/interference from robotic welders.
According to April Ankrum, Senior Productivity Manager at TURCK, more and more OEMs are realizing that the connectivity/cabling between machines needs to be considered early enough in the process (and by the right people) to accommodate all electrical concerns, all communicative concerns, and all of the manufacturing floor realities, like conditions, noise, and environment.
When Bosch Rexroth engineers look at Industry 4.0 and how it's re-shaping packaging machinery, they think in terms of shorter product life cycles.
In this environment, there's greater demand for highly productive, cost-efficient machines and systems in production environments, as packaging machinery OEMs must now speed up their development work and make it even more cost-efficient.
"Packaging machinery manufacturers have been very strong early adopters of this type of technology, faster than say, automotive or aerospace, in part due to the speed and volume at which they are working," says Peter Fischbach, Industry Sector Manager, Bosch Rexroth.
That company's Open Core Engineering platform takes Industry 4.0's communication a step beyond the machines themselves. It permits machine manufacturers to create and program real-time-capable applications in C/C++ and provides these applications to end-users as extensions of the control firmware. Users can also interact on a Bosch Rexroth information exchange to collaborate and workshop problems.
Companies in this article