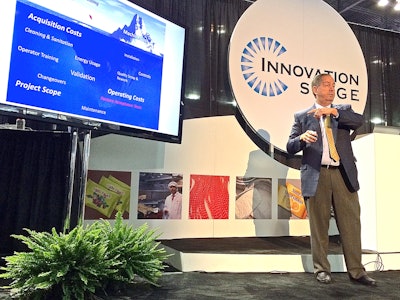 Will packaging and other machines be easier and more cost-effective to purchase and install in the future? A new industry guideline for Factory Acceptance Testing (FAT), now underway, might help make that happen.
The Capital Projects Solutions Group of PMMI's Alliance for Innovation and Operational Excellence (AIOE) is developing FAT criteria and guidelines that vendors and their customers in the consumer goods industries can agree on, saving time and assuring quality for new equipment purchases. This project is one of many underway in nine groups of AIOE's "One Voice Guidelines" effort, which is aimed at creating unifying operational guidelines and best practices within the four walls of manufacturing. At present, the effort is joined by more than 100 consumer goods products companies and 25 of the vendors serving those industries.
"If we can minimize and mitigate the number of issues that occur because we're planning well at the beginning, and therefore executing even better, we greatly reduce the problems [plants] face," said Steve Schlegel, managing director at AIOE, the Alliance for Innovation and Operational Excellence, in a Pack Expo presentation, "Factory Acceptance Tests; One Voice Guidelines for the CPG Industry."
Tests and protocols
Within the effort to standardize FAT guidelines are vendor certifications for managing and documenting material and product costs, set-up costs at the OEM's site; time and travel expenses and lost line production. There are currently five protocols under development for the FAT guidelines. They govern: test runs (length, scope, materials); equipment (mechanical and electrical linkage, and design); safety (product and worker); changeover time and metrics; and documentation.
In the area of testing, three types are covered. First is static testing, including inspections for design, construction, assembly and the documentation for these factors. This is followed by dynamic testing, which includes controls and faults inspections, reliability and quality testing as well as changeover and SKU testing. Finally, induced failure testing uses simulations of potential failures identified through Failure Mode and Effect Analysis, and documentation of recovery methods.
Codifying details such as these help plants achieve what Schlegel called a "DIRT FooT" or "Doing It Right the First Time" mentality that can benefit the operational as well as financial performance of lines and plants. When a well-managed installation is followed by proper maintenance including "sustainable OEE" and other practices, the Total Cost of Ownership of assets and plants benefits.
Benefits, and a caveat
A properly implemented FAT process, Schlegel explained, provides both short term value, from startup to sustained efficiency. He said industry will ultimately rally around this and other "One Voice" guideline-creation efforts, which will "drive down costs, improve efficiencies and achieve vertical startups." He defined "vertical startup" as a rapid acceleration to target performance, which in lay terms can be described as the result of meeting all objectives from Day One. Furthermore, Schlegel believes those who do not move toward these industry standards are "probably going to be left behind."
A detailed guidelines document is in development for deployment in 2015 with protocols, expectations and requirements that CPGs and OEMs can use to guide their partnership during the purchase process.
"None of this activity will be competitive or in any way shape or form confidential information," Schlegel said, adding that the effort was "truly an industry sharing of information…that can raise all boats." Toward that end, more boats — industry professionals — are invited to inquire about this and other activities via AIOE's website, www.pmmi.org/aioe.