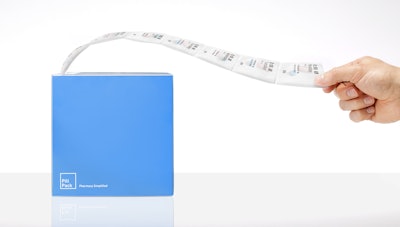 Watch its YouTube video and you'll see why PillPack, Inc. uses the term "Pharmacy Simplified." PillPack is a full-service pharmacy that aims to deliver a better, simpler medication management experience through convenient packaging, modern technology, and personalized service.
PillPack is a full-service pharmacy that fills each customer's prescription and dispenses the medications and vitamins into multi-dose packaging from its pharmacy and distribution center in Manchester, NH. It houses engineering, design, and marketing teams in Somerville, MA.
The blue PillPack dispenser is made of recyclable plastic and each packet is made of a thinner material, although the company would not disclose vendors.
PillPack ships medications to customers in a two-week roll of individual packs, organized by date and time, replacing pillboxes and manual solutions. A $20 monthly fee includes unlimited shipping, eliminating the time-consuming process of refill and renewal planning. PillPack's Proactive Refill Management means that a PillPack pharmacist monitors and coordinates each refill and renewal ahead of time. PillPack pharmacists are on-call for 24/7 support.
PillPack has launched in 31 states, with additional states expected throughout 2014. PillPack is initially focused on people with the toughest challenge—the 30 million people (one in 10) in the U.S. who take more than five medications every day.
"Managing medications is a complicated and stressful chore for people who have multiple prescriptions," says TJ Parker, PharmD, a second-generation pharmacist and CEO of PillPack. "PillPack is a pharmacy that's making the end-to-end process both simple and understandable. We've used modern technology and a healthy dose of design to reinvent the entire pharmacy experience."
"PillPack is a breath of fresh air for anyone who has spent endless hours counting pills, coordinating medications, and navigating a complex system that causes frequent and often serious errors," says Fred Destin, a partner with investor Atlas Venture. "PillPack customers spend less time dealing with medication and more time doing the things they enjoy, all while finding it incredibly simple to consistently take the right medication at the right time."