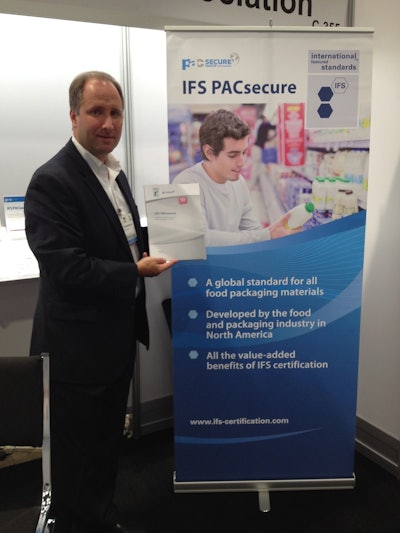 Food manufacturers seeking certification to a GFSI benchmarked standard now have more about PACsecure, a new standard designed for primary and secondary packaging converters. Early adopters include Unilever and other brand-owners who "are already accepting IFS PACsecure from their packaging suppliers" as proof that they meet GFSI standards, George Gansner, director of business development for
IFS
, told
Packaging World
following a Food Safety Summit presentation at Pack Expo 2013.
"What's important about PACsecure is that was designed by the industry, by comapnies in the food and packaging industry together," he added, noting that major brand-owners and converters were among those who crafted the standard. This standard is latest addition to IFS' family of food safety and quality standards covering food processing, storage and distribution and more. Like its siblings, it's designed to be compliant with the requirements of
GFSI
, the Global Food Safety Initiative.
"It's a standalone packaging standard, not a bolt-on packaging piece," Gansner said, noting that the standard have included specific HACCP Implementation Workbooks to cover processes for all major material groups and packaging types: Flexible plastic; rigid plastic; paper; metal and glass. So far the workbooks cover chemical, physical, and biological risks; allergens are now being added. All packaging suppliers may meet the same standard, but there are many ways to get there with any given standard; the workbooks help, explained Gansner: a metal container converter "11 different process steps; their HACCP implementation is completely different from somebody who does glass, or plastics." Additionally, risk factors differ for each material. The workbooks spell these out to ease compliance.
Why should food processors care about enforcing a packaging standard before laws such as FDA's Food Safety Modernization Act are fully enacted? "We know that the standards will help meet the proposed FSMA rules," Gansner said. In years past, meeting regulatory requirements essentially defined the state of industry standards, but today, industry standards are often more stringent, evidenced by the requirement that food brands become certified even without a final FSMA. IFS research shows that meeting standard reduces recalls, complaints, internal error rates and the effort required to meet legal requirements.