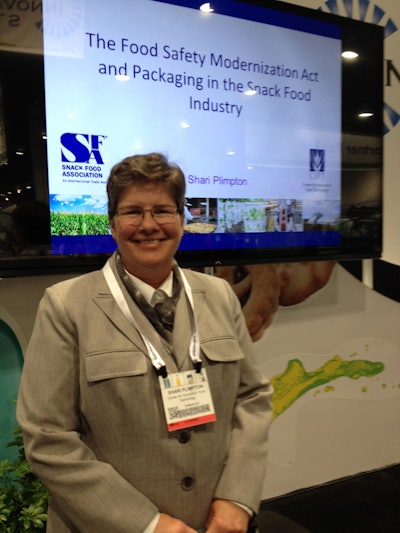 "Packaging suppliers need to be proactive in creating their own verification and validation programs for their materials as well as their equipment, because they're going to be called upon by manufacturers to do that," said Shari Plimpton of CIFT, the Center for Innovative Food Technology, in an interview with Packaging World following a presentation at the 2013 Pack Expo Innovation Stage on Monday, September 23 titled, "The Food Safety Modernization Act and Packaging in the Snack Food Industry."
That statement refers to Preventive Controls and Current Good Manufacturing Practices required under the FSMA mandate. She explained that supliers play a critical role in their customers efforts because manufacturers must now not only track and trace their own operations, but document for large retail and other customers all food safety-related data two steps back in the supply chain, including the movements, makeup and handling of their packaging materials.
While implementation supplier-related provisions of the law are focused on foreign suppliers, Plimpton stressed that the law also will apply top domestic suppliers.
Packaging material and equipment suppliers are "really going to need to have a handle on potential risks, because they're going to be asked about them by the food manufacturer, and they're going to be expected to come forward with information on what those risks are — and specifically what they're doing to mitigate those risks." This goes beyond the traditional certification that a material is acceptable for food contact, she added, noting FSMA requires more specific identification, mitigation and documentation.
Food safety risks vary from application to application. Regarding packaging materials, the use of the chemical bisphenol-A, or BPA, has been a controversial issue, particularly for rigid containers due to chemical migration concerns. This applies more commonly to rigid containers, but similar barrier issues are also salient to films used more commonly in snack foods. "Certainly, snack food manufacturers aren't completely aware of everything that goes into everything that goes into producing materials, so they are dependent upon their suppliers for that information," Plimpton said.
Asked if the snack food industry is facing an issue on the order of BPAs, she said: "I am not aware at this time of a specific chemical or agent that would be at issue. But that's one of the things that's causing snack food manufacturers themselves to lose sleep; they know they don't know! And they're looking to the packaging supplier to be that resource and know whether or not there are any potential problems."
One of the first and foremost things to remember, she added, is that FSMA compliance requires "full participation" in Hazard Analysis Critical Control Points (HACCP) programs, which are at the center of traditional food safety programs, and now the law.
For details on supplier verification and additional requirements of FSMA, readers can refer directly to the rule, contact CIFT and download the free, 81-page Packaging World Food Safety Playbook, which includes extensive coverage of packaging-specific risks and mitigation factors to aid in FSMA compliance.