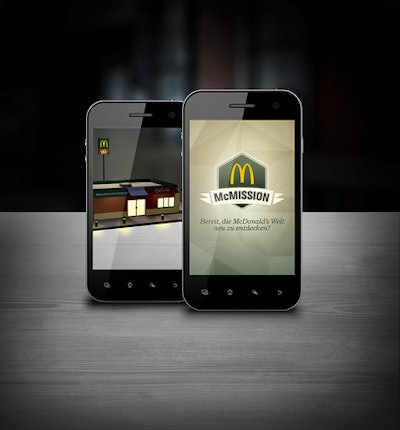 A new Augmented Reality app, McMission, from McDonald's Germany is a playful approach educate McDonald's visitors and mobile users on the company's commitment to sustainability. Coinciding with the publishing of McDonald's third Corporate Responsibility Report, the app is now available on Google Play and the iTunes App Store for download. Through four interactive mini-games, visitors learn about the societal and environmental initiatives in which McDonald's and its franchisees are involved.
"With McMission we want to bring our guests closer though playful central aspects of sustainability," says Philipp Wachholz, Director of Corporate Affairs at McDonald's Germany. "We have chosen Augmented Reality as a technology because it brings together the real restaurant experience with fascinating virtual animation."
The app consists of four "missions" that not only educate users on McDonald's, but also encourage them to interact with the app itself. From learning about renewable energy in "Eco-Spinning," users can experience "Origin Puzzle," "Recycling Crash Course," and "Waste-dunking," where they learn about proper waste disposal. Each mission concludes with a mini-quiz on the information already presented.
The games can be launched through scanning things in McDonald's like a box of French Fries or images in the Sustainability Report, available at certain locations. Through the integration of social media, guests can share their game achievements via Facebook, Twitter, and Google Plus.
Metaio developed the augmented reality portion of the app in conjunction with communications agency LessingvonKlenze, and in cooperation with creative digital agency Heye, all based in Munich.
Companies in this article