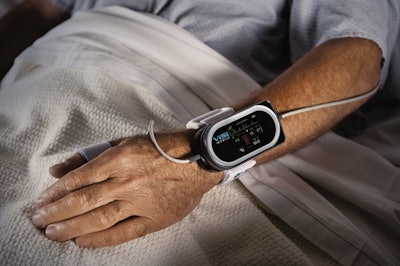 The ViSi Mobile® System. a continuous vital signs monitoring device produced by Sotera Wireless, Inc. that uses Eastman Chemical Company's Tritan™ copolyester, has received 510(k) clearance from the U.S. Food and Drug Administration.
Sotera Wireless, Inc., is a San Diego, Calif.-based medical device company dedicated to the development, marketing, and sale of a new generation of comprehensive vital signs monitoring. Sotera's mission is to improve patient safety by empowering clinicians to detect early signs of deterioration in virtually any care setting and enable early intervention and rapid response, all without limiting the patient's freedom of movement.
The device is now available commercially for hospital use. The monitoring system's lens, housing, and connectors are made with Tritan, a new-generation copolyester that has a balance of properties, including toughness and chemical resistance.
The small, wrist-worn ViSi Mobile System was developed specifically for ambulatory patients on non-Intensive Care Unit areas to help detect early changes in a patient's condition and prevent adverse events. It measures and displays all core vital signs—including heart and pulse rate, blood pressure, oxygen saturation, and skin temperature—while maintaining monitoring when a patient is being transported and allowing the patient the ability to move about the hospital.
"We knew that a device capable of tracking patients' vitals without limiting them to the confines of their hospital room would need to address a wide range of hospital situations," says Gunnar Trommer,
vice president, marketing and customer service, Sotera Wireless, Inc. "The ongoing interaction with the experts at Eastman helped ensure that our monitoring system is using a material that is not only durable but also can be treated with chemicals used in hospital-grade disinfectants and cleansers without cracking or crazing."
Using Eastman Tritan for the ViSi Mobile System provided the durability and the impact and chemical resistance necessary for such a device. These devices require such qualities because they are repeatedly used and can be dropped or damaged, and they also are frequently cleaned with strong disinfectants and chemicals.
In addition to the benefits it brings to the end product, the copolyester also has design flexibility and processing benefits. The cold-swaging ability of Tritan allowed for the fit and press assembly of the ViSi Mobile System, creating a tight, smooth, continuous fit between parts. This process allows for the parts to be joined without chemicals, adhesives, or mechanical fasteners.
Advancements in wireless patient monitors such as the ViSi Mobile System are helping meet the health-care needs of an aging population while allowing patients to maintain a sense of freedom. Wireless patient monitors have experienced significant growth in recent years, a trend that is forecasted to continue over the next several years.
Click here for more information about the ViSi Mobile® System and to watch videos about the device. The ViSi Mobile System is FDA cleared for monitoring of electrocardiograms, heart rate/pulse rate, blood oxygen saturation level, respiration rate, noninvasive blood pressure, and skin temperature.