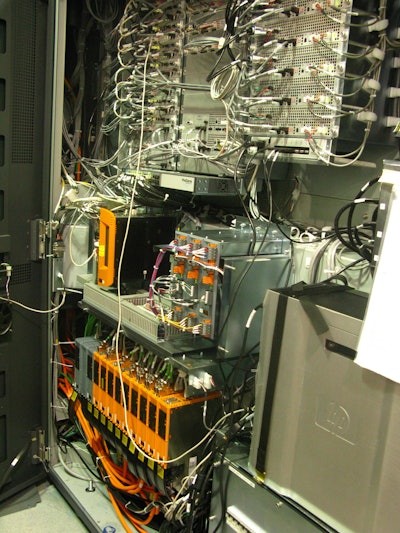 At HP Indigo, where the HP Indigo 10000 digital press is now being introduced to the marketplace, the answer is 400 engineers, including 40 Ph.Ds. That was one of the many fascinating details provided in a March 14 tour of HP Indigo's R&D facility in Ness Ziona, Israel. The tour was part of HP Pre-drupa 2012, a preview of HP's upcoming exhibit at drupa 2012. Drupa is the world's largest graphic arts trade show, and it will be held May 3-16 in Dusseldorf, Germany.
Other notable bits of information gleaned during the visit:
• The HP Indigo10000 digital press weighs 11 tons and has 15 B&R servo motors (shown here in the press's control cabinet) at the heart of its sophisticated automation and controls architecture.
• Described as "the first offset-quality digital press in a B2 size format" (meaning it takes sheets that measure up to 29.5 x 20.9 inches), the press's ability to process imagery is analogous to taking 400 photos with a smart phone and processing them in one second.
• Modular componentry throughout the press (also shown here) makes it easier than ever for personnel to operate the press.
• Advanced machine vision technology combined with the latest in controls technology permit automatic registration control and correction on the fly.
• A highly concentrated version of Indigo Electroink packaged in a larger canister than previously available has been developed for the new press to minimize the frequency with which ink has to be replenished. Developed with the new ink is a new mixing system, as well.
The introduction of the HP Indigo 10000 and the unveiling of a derivative press called the HP Indigo 30000 are significant because they could make digital printing of folding cartons much more widespread than has been the case thus far. Both presses are scheduled for commercial availability in 2013.

Companies in this article