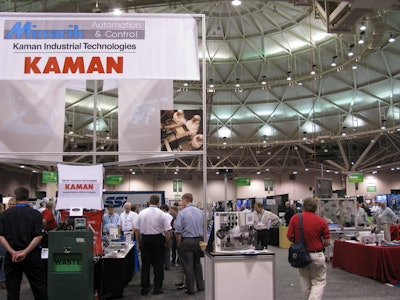 Test method validation, transportation simulation, and environmental conditioning are among the "hot" topics for packaging engineers in the medical device-manufacturing sector.
That was one of the opening messages at the "Medical Packaging Update" Nov. 3 during the Medical Design & Manufacturing Minneapolis event delivered by Kevin Zacharias, engineering program manager, Oliver-Tolas Healthcare Packaging. His co-chair at the session, Scott Levy, packaging engineer, Distribution Dynamics Labs, recommended that attendees consider the session "a free consulting consortium that provides them better tools to do their daily jobs."
MD&M Minneapolis featured conference sessions from Nov. 1-3, and a supplier exposition (see photo) Nov. 2-3.
Throughout his presentation on risk mitigation, Elon Goldbaum advised taking a conservative approach to medical device package testing and validation, recommending "a worst-case scenario approach that includes developing the data to support all testing," with stability testing particularly important. Goldbaum, a principal manufacturing engineer with Endologix, said that testing is where "you want to see potential failures" so they can be corrected.
He concluded that your packaging processes will likely hold up to U.S. FDA scrutiny if you conduct process validation, package verification testing, and stability testing.
Breaking the mold
Levy and Zacharias noted that while most Medical Packaging Update sessions of the past focused on expert presentations, this day would also include workshop/breakout sessions.
A late-morning breakout session billed as "Project Octopus" called for audience members to separate into two groups to address a medical device packaging challenged based on the following assumptions:
• Due to a recent recall related to open sterile packages found in the field, the culture at fictitious "Superior Medical Systems" is risk-averse. The session also noted that the company was cited by FDA for not having aging data available for its sterile package materials.
• The sales forecast for this new device shows annual volumes for years one through five at 50,000, and then moving up in increments of 10,000 per year.
• The company has a variety of packaging equipment to run "Octopus," including five pouch sealers, two tray sealers, and one horizontal form/fill/seal machine.
• This device will be distributed exclusively in the U.S., primarily by ground transportation, with limited air shipments.
• ETO is the sterilization method.
• The product must be delivered to market on schedule—in nine months--without allowing the packaging cost to get in the way. "Your boss tells you driving cost out in the future is job security for you."
Attendees related to the challenges. The group observed by this editor was led by Goldbaum and Todd Dehmer, senior packaging engineer, American Medical Systems, while Zacharias and Levy led another group.
The Goldbaum-Dehmer group first determined that the medical device's sharp edges, multiple points, and considerable tubing would be best served by a tray that could be packaged on existing equipment. A single-barrier DuPont Tyvek® material was selected for the pack to contain the tray. The group then determined what test methods would be most appropriate, recommending consulting with FDA consensus standards, ISO 11607, ISTA, and ASTM. Design of experiments, feasibility, validation, and risk management issues were also discussed by the group. The session co-chairs pointed out there were no right or wrong decisions, with the breakout session goal to elicit questions and discussions to facilitate learning.