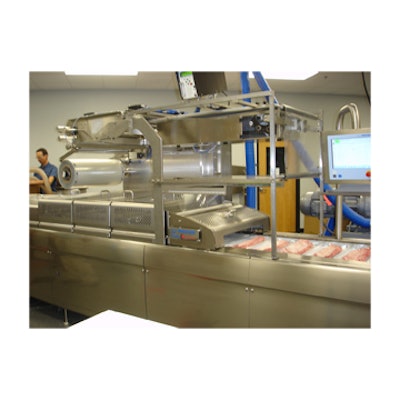 Greater line speeds, reduced labor costs, and measurable sustainability benefits were touted as advantages of form-shrink packaging during a June 29 presentation at Curwood's (
www.curwood.com
) Research, Engineering and Development Facility in New London, WI. The press event included a live demonstration of ribs being packed into Curwood's Form-Tite™ film on a Multivac (
www.multivac.com
) R555 thermoform shrink packaging line. The machine was outfitted with a thermal-transfer coder from Bell-Mark (
www.bell-mark.com
) for printing the Form-Tite™ film. Afterwards, the rib packs were sent through a Multivac shrink tunnel.
The New London facility is using the equipment to market form-shrink packaging to prospective meat and cheese processor customers. The equipment will reportedly be sold to an end-user customer in the future. Although the presentation concentrated on pork back ribs, the company pointed out that the films and packaging process are suitable for consistently portioned meats, as well as chunk, loaf, and wedge-shaped cheeses.
Curwood marketing manager Brian J. Conrad noted that the Form-Tite™ film coextrusions comprise nylon, ethylene vinyl alcohol, and a polyethylene sealant layer. Films are available in 2-, 4-, 6-, and 8-mil thicknesses. Curwood markets these rollstock films as an alternative to preformed shrink bags. The supplier cited the following advantages for rollstock films on a thermoform system compared with shrink bags filled on rotary-style equipment:
• Thirty-three percent faster line speeds than rotary chamber filling, with easier, quicker product placement allowing for up to 40 packs of pork back ribs/min.
• The tf/f/s process requires only two people to load and operate the machine, compared to five with a rotary chamber unit. At $35,000/yr/person, that's $105,000 in annual labor savings/shift.
• Minimal seal contamination results in lower leaker rates.
• By eliminating the need for cases of shrink bags, users can get three times more packages onto a pallet, which translates into fewer trucks. A further sustainability benefit: The film is said to use less material than bags, yet it still offers strong puncture-resistance characteristics.
• By using the thermal-transfer coder, users can dramatically reduce their number of preprinted bags for various stockkeeping units. Coding can be customized for each customer and SKU.
• The form-shrink process results in a bag with strong visual appeal.
A video of the machine, the film, and an interview with Multivac is viewable at
www.curwood.com/products/403/form_tite_shrink_films
.