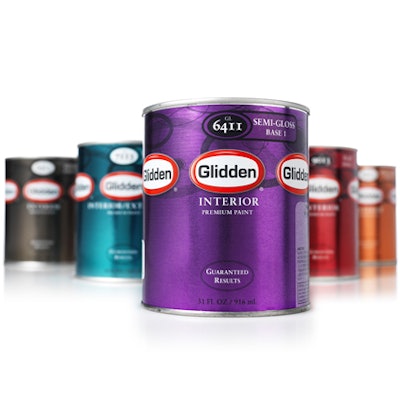 Glidden Paint, Cleveland, OH, says it has begun to improve consumer recognition of its venerable Glidden brand of paint, and thereby regain lost sales, via a package redesign. The new packaging works with improved in-store shelf trays as well as an updated Web site and advertising and marketing campaigns as part of a multi-pronged brand strategy.
"As a Home Depot partner, we have access to point-of-sale data for our products," says Mark Hembree, Glidden senior brand manager. "Initial reports for stores that have been reset with the new packaging show a sales boost over stores that haven't been reset. And, these sales have been taking place without the benefit of any advertising," he continues, attributing the gains to factors including the new packaging and merchandising.
Created by Interbrand (www.interbrand.com), the new design accomplishes several objectives for the Glidden brand. The new labels feature the Glidden logo three times, creating brand-blocking when looking at the Glidden shelf set from multiple angles. The new packaging also displays a rich and bold color-coded information hierarchy that helps consumers to select the product and sheen they desire. In addition, the packaging introduces characters for each of the sheens that include a "face," personality and a simple product-identifying statement. These elements, Hembree says, reinforce the social and emotional aspects of painting.
As part of the redesign, new trays have been introduced to merchandise the paint cans in-store. Hembree says the trays make each store's paint area look cleaner, neater, and better organized.
"Glidden's new packaging and trays have brought a sense of style back to the category," Hembree says.