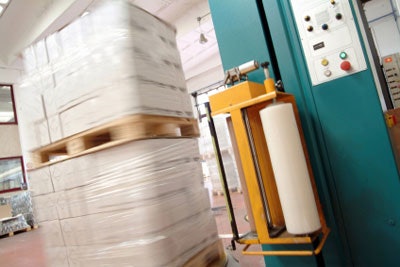 If only all decisions about packaging machinery were as easy as those involving stretch-wrapping machines. The question of the need for such machinery hardly requires answering, given the dominance of stretch film as a unitizing method (see last month's article: "
Stretch film should stretch dollars
"). The choice of machine type is so formulaic that it's unlikely, for example, that a company with a user profile suited for a turntable will end up with an overhead straddle. Lead times and installation often are condensed to weeks. Sweeter yet, the payback period frequently is a year or less.
It's understandable if decisions concerning stretch-wrapping machines receive less study than what's accorded upstream packaging equipment. It's understandable, but not justifiable; for, what might seem self-presenting and routinely resolvable, in truth, is mere layering, that when unwrapped, reveals a core of profitable opportunities.
Can you afford to stand pat?
Certain provisions of the American Recovery and Reinvestment Act of 2009 aim to stimulate investment by improving cash flow through increased allowances for depreciation and expenses. Additionally, manufacturers of stretch wrappers are enticing users with savings from promotions. And, never to be disregarded is the value of a user's old-fashioned, hard-nosed, win-win negotiating (for related reading, see the 3/25/08 article: "
Recession-ready your packaging
"). All totaled, now may be the time for a user to upgrade its stretch-wrapping machine inventory. Such upgrading can take a variety of forms, classifiable under the categories of buy, lease, and retrofit.
But what if your present machine inventory is getting the loads out the door, through the supply chain, and ultimately to final destination in "factory condition"? First, congratulations, but second, that doesn't mean that there are no improvements to be had. At the very least, you should make an assessment of how long present performance is likely to last. What stage in its life cycle, for example, is each machine, and if it's in its latter stage, how costly will it prove to wait until it dies? Old, though still functioning machines, can cost you in uptime.
Whether for a new or used machine, of paramount importance is the warranty/service/parts package, a key component of the supplier's reputation. Factor in the quality of construction; structural steel provides the greatest durability, but if you opt for formed steel, make sure it meets your long-term intentions for the machine. And, among the myriad other factors, a major one is standard features vs. how many bells and whistles (at additional cost, of course) must be added to tailor the machine to your application.
But even a machine with considerable remaining life can be an unnecessary drain on economy, efficiency, and safety—although, solutions don't always entail replacement through buy or lease. Retrofitting can be the answer. One example is a machine retrofitted with a wider film carriage. The result is that loads can be wrapped with fewer revolutions and less overlap.
When a company has multiple facilities, upgrades at one can cause spillover effects. The company has to guard against load differences (aesthetically and functionally) that are due to plant of origin. Clients want reliable loads regardless of from what facility they were shipped. All of that speaks to the multifaceted nature of decisions about stretch-wrapping machines.
Stretch the justification analysis
Stretch-wrapping machines usually are justified on savings in two areas: material and labor. The problem is that the most obvious savings under each usually satisfy the threshold justification, and many an analysis proceeds no further. As such, the company doesn't gain the knowledge into its operations that an in-depth analysis would have provided. A threshold justification later can impair recognition of the need to upgrade the machines; after all, the machines still are operating on the plus side.
Take for example a machine that had a prestretch capability of 200% when it was acquired. If the usage volume was substantial, the material savings in film might have justified the machine single-handedly. However, latter-day machines have capabilities in excess of 300%. The user of the older machine is incurring a prestretch sacrifice of 50%.
Material savings further are impacted by load force in at least two important aspects. One is when the machine applies a uniform (vs. adjusted) load force that damages the corners of corrugated shippers, thereby wasting that material. The other is when the machine applies the wrong combination of prestretch and load force, causing the roll of film to break. Productivity is reduced by the stoppage and retreading; furthermore, material costs increase if the roll is thrown away before having been completely used.
Labor savings are a function of automation, along a continuum from manual to semi-automatic; from semi-automatic to automatic; and, yes, from automatic to the best in automatic. The challenge with labor savings is quantifying beyond threshold considerations, to enable the justification of the highest position feasible on the continuum. A user enjoying savings at one position might be doing so at the expense of a position that offers greater savings.
In addition to the amount of labor freed as automation increases, another savings can derive from the type of labor required. For example, machines with human-machine interface controls that don't require highly technical expertise reduce the wage requirements of the operators. Machines that are easier to troubleshoot and maintain are further sources of labor savings, wage-wise.
In the flow of things
Too often, insufficient attention is given to the integration of the stretch-wrapping machines into the plant layout and material-flow patterns. For starters, the location of a machine should never be the result of filling an unoccupied space. The rate at which a stretch-wrapping machine is fed and the wrapped loads removed requires planned coordination among stations for optimal throughput.
Whether movement to and from is achieved by forklift, pallet-truck, or conveyor, the flow should minimize bottlenecks. Paths should be efficient and not space-wasteful. Worthy of separate mention is the safety factor: Flow patterns should not result in dangerous traffic areas that increase the possibility of collisions (equipment against equipment, or worse, equipment against personnel).
Another way to make layout and flows more efficient is to combine certain stations, such as wrapping and weighing. And, when installation involves multiple machines, a well thought-out sequence in which machines are brought online will exert the minimum disruptions to flows and traffic.
Locked and loaded
The capability to not only unitize the load but also to lock it to the pallet is the degree of insurance that can make the difference in whether that load makes it through the supply chain intact. The simplest method is for the machine to extend the film below the deck boards. Although better than nothing at all, the method is imprecise, often placing the film so far down that it's later pierced by the forks of a lift truck. That piercing, in turn, compromises the integrity of the film's locking capabilities.
Other methods, some patented, lock the load to the pallet by means of a rope or a cord, formed by rolling the bottom of the film. Either method is compatible with wood or plastic pallets, stringer or block. Neither method is a universally standard feature on new machines; however, as an option or as a retrofit, it can be a cost-effective expenditure.
Sharing the benefits
The best thing about a well-matched pairing between film and machine is that the resulting wrapped loads bestow benefits not only upon the machine owner, but also upon partners throughout the supply chain. Every intermediary, as well as the ultimate receiver, can experience gains in efficiencies and productivity from secure stretch-wrapped loads. Such loads give new meaning to the term, "gift-wrapped."
Before becoming a packaging consultant,
Sterling Anthony
worked for Fortune 500 food, healthcare, and automotive companies, and has taught packaging at the university level. He welcomes your comments by phone, 313/531-1875 or by e-mail, [email protected]. His Web site is
www.pkgconsultant.com
.