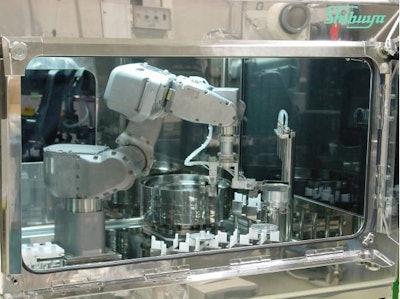 "We are on the cusp of a complete mindset change for aseptic," declared Dr. James Akers of Shibuya Hoppman Inc. "It's the most significant change I've experiences since I've been involved in aseptics." He added that the bext examples can be found in food and beverage, not in biologics and pharmaceuticals.
Akers spoke during a presentation on Tuesday Nov. 10 at Pack Expo Intl. entitled "An Overview of Advanced Aseptic Technology – The Next Step in the Evolution of Aseptic Packaging."
Akers referenced a 1988 quote from Hank Avallone of the Food and Drug Administration that "humans have always been the biggest source of contamination while working in the aseptic area."
Underscoring that point, Akers characterized a gowned operator as a mobile contamination generator." He also declared that "I believe that microbiological standards that have evolved in our industry evolved without any critical thinking about methodology or capability." And, he added, "a zero in microbiology doesn't mean zero."
Akers feels the industry is lagging 15 to 20 years behind the technology. He believes that the solution to improved aseptic operations rely on three areas:
1. Better ventilation and air movement.
2. Increased packaging automation to reduce the need for direct intervention.
3. Improved gowning materials.
Hydrogen-peroxide resistant robots
Akers theme centered on point 2 and stated that automation including both machine and robot provides the best, long-term solution. "And these systems are already available," he added. Akers also noted the availability of hydrogen-peroxide resistant robots.
The presentation included three several videos from state-of-the art installations. These included a 128-head filling system for PET bottles run at 1,200 bottles/min equipped with positive handling equipment to prevent jams.
Another example showed a syringe filling and packaging line based on robots—no operators and very little shielding. Such systems are also useful for cyto-based processes used in pharmaceutical applications that pose health hazards for human operators.
"In 10 years, [robotic systems in aseptic packaging] will be commonplace," Akers predicted.