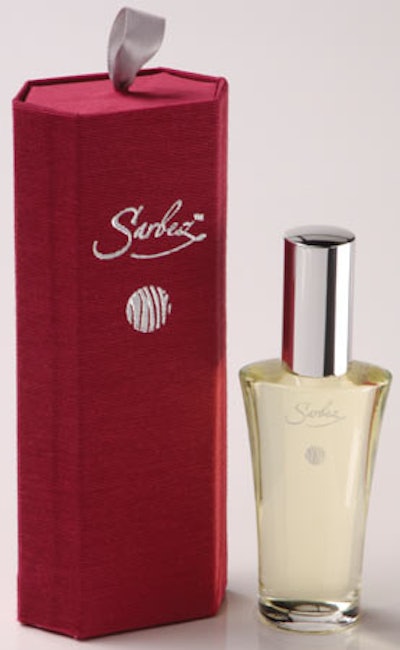 The company, which uses seven different glass bottle sizes (12 mL through 50 mL) purchased from multiple suppliers in France and Italy for the primary packaging, sought something special as shelf display containers for the bottles. After considering various options, the perfumery selected the "hex box" supplied by packaging distributor Xpedx-Tampa (www.xpedx.com), a unit of International Paper Co.
Xpedx sources the hex box from El Salvador-based Specialty Products (www.luxurypack.com). These hexagonally shaped boxes are made with 30-pt white paperboard. The interior is lined with white paper, and the exterior is covered with pressure-sensitive, cranberry-colored fabric that simulates the look of a cross between velvet and corduroy. Specialty Products also applies the silver hot-stamp printing and silver ribbon opening mechanisms before delivering the boxes to Xpedx, who, in turn, delivers them to Sarbez for manual depositing of the filled perfume bottles into the boxes.
The carefully blended Sarbez fragrances include subtle notes of lavender, bergamot, jasmine, ylang-ylang, rose, vanilla, and patchouli wood. Currently, these perfumes can be purchased on-line at www.sarbezperfume.com, but marketing efforts are underway to bring the products into wider distribution at department store and boutique venues.
Sarbez president Peggy Dean says, "The hex box is not the usual throw-away box that so many fragrances come in, and it has a wonderful look. Xpedx representatives were hands-on participants throughout the entire process and helped the project flow easily. We are very pleased with the results." —Judy Rice
Companies in this article