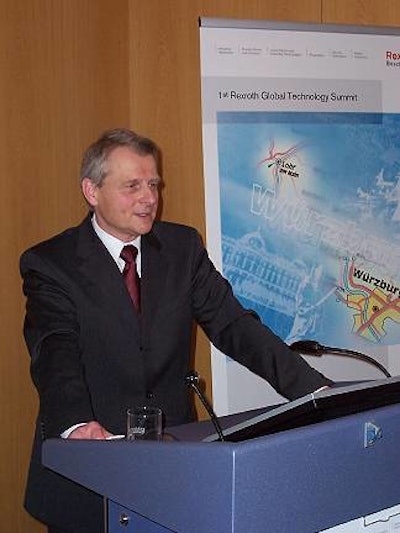 Reiner Leipold-Buettner, chief operating officer at Bosch Rexroth, posed this question in a January 26 presentation at the 1st Rexroth Global Technology Summit in Lohr, Germany. He then answered his own rhetorical question:
* Product shelf life cycles are decreasing and the speed of innovation is increasing. This not only applies to the field of automation but is generally true across the entire manufacturing scene. In the field of machine controls, decentralized hardware is becoming more dominant thanks to its greater flexibility. The actual hardware is becoming increasingly replaceable. The software, in which the controls suppliers demonstrate their know-how, is the differentiating characteristic of the future. What's more, these software solutions will soon be able to be used irrespective of the different hardware platforms. Software is fast becoming a free-standing product, one that presents itself and is marketed independently from hardware.
* As has been the case for years in the automobile industry, machinery manufacturers are seeking trusted partnerships with technology providers. Increasingly, modules and systems are being delivered to the machinery makers ready to install, eliminating the need for these manufacturers to construct and assemble individual components.
* Vertical integration with its standardized interfaces—i.e., open controls and communication standards across all technologies—is gaining enormously in significance. Open systems rather than proprietary ones are being used by many manufacturers, thus offering machine manufacturers a greater level of security.
* The main benefit that machinery manufacturers want to offer their customers is reduced total cost of ownership. The costs of construction and commissioning can be lowered considerably by means of a drive-independent, decentralized system architecture, through open standards and unified engineering tools. Open systems can adapt innovations from third-party manufacturers, for example at the I/O or software levels, considerably faster than proprietary systems. If using open systems in particular, each individual component is available from competitors and as such is interchangeable.
Companies in this article