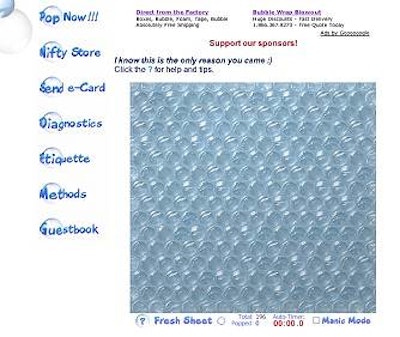 Like duct tape, Sealed Air's Bubble Wrap® packaging material has become part of our pop culture, so to speak. And for those addicted to popping Bubble Wrap—and you know who you are—there's an online alternative to that one-of-a-kind satisfaction that only popping Bubble Wrap can provide. Billed as the "most fun you can have online!," this site is found on the Web at www.virtual-bubblewrap.com.
Once there, and with Macromedia Flash Player installed, you can pop away using unlimited cybersheets of this "pop"ular material. You can also learn proper bubble popping etiquette. The site tracks the 50 top scores, so you could become a "pop star." An "insane" version provides goofy sound effects.
The site has a link to the real Bubble Wrap page at Sealed Air's corporate Web site. That's where I discovered that I missed the 5th Annual Bubble Wrap Appreciation Day, held on Monday, January 31, 2005. That burst my bubble, but we'll have to plan ahead for next year.
Upon my return to www.virtual-bubblewrap.com, I learned that the site has had 750ꯠ visits that generated 2 2/3-million page views. I found that the average visit lasts 2:26. However, my visit lasted longer because of the research required for this article.
Meanwhile, until the next Bubble Wrap Appreciation Day, you can virtually pop, pop, pop to your heart's content.
Companies in this article