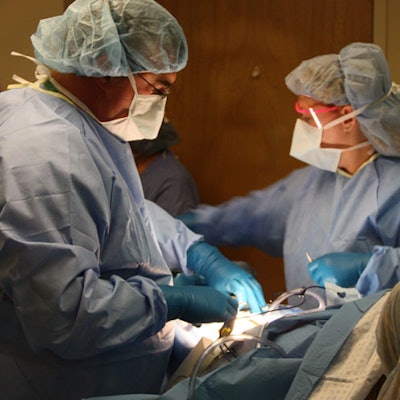 How does packaging perform in simulated surgery in an operating room, or at the scene of a car accident, or in an actual veterinary procedure? Participants can witness medical device packaging in these environments October 5-6, 2011 at the Healthcare Packaging Immersion Experience, or HcPIE at The James B. Henry Center for Executive Development in Lansing, MI, at Michigan State University.
Also held last year, the event is a collaboration between MSU's School of Packaging and Learning and Assessment Center and sterile-grade medical device and pharmaceutical packaging supplier Oliver-Tolas Healthcare Packaging.
Participants will witness a simulated surgery, an emergency department trauma event, and a car accident victim treated at the scene of the accident. Following the simulations, participants will have a facilitated discussion with the doctors, nurses, and paramedics to analyze the performance of the packaging in these contrasting environments.
Also, a documentary of an actual veterinary procedure will be shown and followed with discussions with a veterinary care team. The event will also include a panel discussion including healthcare professionals and medical industry experts from Hospital Purchasing, Medical Supply Chain Management, Risk Management, and Patient Safety.
Serving as HcPIE's keynote speaker will be Jay Crowley, senior advisor for patient safety, in the U.S. Food and Drug Administration's Center for Devices and Radiological Health. Crowley has held various positions during his 20 years with the agency and has responsibility for implementing the Unique Device Identification requirements for the 2007 FDA Amendment Act. He is interested in developing and implementing new methods and techniques for identifying and resolving problems with the use of medical devices.
HcPIE's "The Incredible Journey" will chronicle the journey an IV start kit package makes, from creation through disposal. Participants will see the package made, filled with the device, sterilized, distributed, and travel through the hospital, starting in Hospital Stores, to point-of-use, and into disposal. A short introductory trailer on "The Incredible Journey" and registration information for the event can be found on the Healthcare Packaging Immersion Web site. Further details are available by contacting Dr. Laura Bix by e-mail at bixlaura@msu.edu, or by calling her at 517/355-4556.
Companies in this article