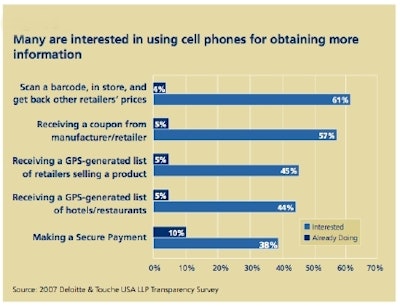 Thanks to technologies relating to cell phones and the Internet, consumer products are under greater scrutiny than ever before. A new Deloitte & Touche Consumer Products survey finds that this trend is being boosted by technologies that include the ubiquity of cell phones, or "sell" phones. That's the term Pat Conroy, vice chairman and U.S. consumer products group leader at
Deloitte & Touche USA LLP
(www.deloitte.com), uses for these and related personal data assistant devices that are at the epicenter of this trend.
The result? The ability of consumers to connect to products through packaging and through each other is redefining the boundaries between product, packaging, and consumers.
According to this new survey: Almost two-thirds (62%) of consumers read consumer-written product reviews on the Internet. Of these, 82% say their purchase decisions have been directly influenced by the reviews.
Recent recalls of imported products are also playing into this trend toward transparency:
Some 33% of respondents say that, as a result of recent recalls, they now look for more information on the packaging/product, and almost one in five (18%) say they now look for more information on the Internet or in other locations.
A shift towards empowerment
"In the past, clever marketers and advertisers shaped brands, but now consumers are increasingly empowered, everyone has a voice, and information and opinions are instantly dispersed," says Conroy. "The balance of power is shifting to consumers. Consumer product companies need to determine how best to capitalize on this new landscape. Clearly, there will be consequences for those who don't."
We spoke with Conroy to hear what the packaging implications are—and what advice he has—for marketers and packagers regarding transparency, which he defines as the ability for consumers to find out almost anything about a product. Here are some highlights:
Design the packaging to permit consumers to use their mobile devices directly. For example, having a scannable bar code on the package can send the consumer's device-equipped browser to a Web site with the pertinent information.
"Use the packaging to not only inform, but also to direct, to make it easier for the consumer to validate what you're saying," Conroy explains. He emphasizes it's much more important to send them to your site—presumably housing accurate information—than to have them surfing the Web going who knows where. "It only takes seconds for poor information to damage a brand's reputation," he adds. This is all the more true in this new landscape of transparency.
An extension of the packaging
Conroy says one of the big drivers for this trend is convenience, and having the information on the package is the first priority. But given the limited real estate that's available, this approach using bar codes or other means permits the cell phone or other device to effectively become an extension of the packaging, he says.
"That capability has been around for years, but now the decision-making and research is available at the point-of-purchase," Conroy says. "A marketer could have a bar code that provides an instant five-percent-off coupon to incite the consumer to purchase its product. Don't leave that role in the hands of retailers who may or may not have an in-store display—or a well-maintained display."
Citing recent news about the Google consortium to create an open operating system for cell phones, Conroy feels strongly that the technology is going to take quantum leaps forward. "Cell phones will become more like those in Asia, which are much more powerful, including the capability UPC bar-code scanning," he says.
"Compared to what's coming, they make the Apple iPhone look like a toy," he adds.
That's a wake-up call for opportunistic marketers and packagers.
To literally hear more from this interview, listen to the Podcast:
www.packworld.com/view-24610.