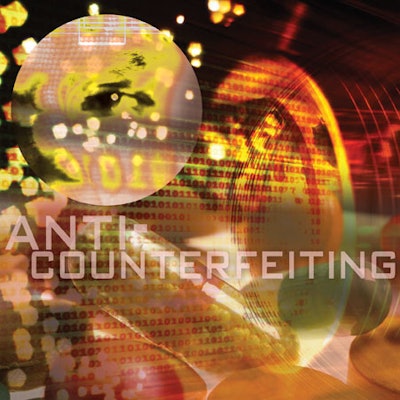 That's according to Alistair Dand, Marketing Manager for LGR Emballages (www.lgr-emballages.com), a supplier of folding cartons in France. And currently, one out of every two drugs bought on the Internet is a fake.

"Counterfeiters are benefiting in developed countries from our desire for lifestyle drugs, and in developing countries from the need for life saving drugs," Dand told an audience on Feb. 8, 2008, at Pharmapack in Paris.

"A successful anti-counterfeiting solution should allow authentication by anyone in the supply chain,from production to patient," Dand added. "No single solution is impossible to imitate. A strong fight against counterfeits combines a number of technologies."

But in discussing the combination of overt and covert methods, Dand said the pharmaceutical industry may be falling short. The problem, he said, especially with covert technologies, is that the average consumer is unable to determine whether a package is authentic or not.
Consider 'durable" measures

As a supplier to the industry, LGR must weigh the pros and cons of each technology to determine which solutions can be most easily integrated with their existing equipment, as well how "durable" a solution may be.

Dand said that LGR can't risk the investment of adopting a solution only to have it change too fast: "So we are not only looking at how effective a technology may be, but also for how long as well."

And still, warned Dand, "an authentic package does not guarantee an authentic product." The best solution will combine technologies on the package and in its contents, and even in the accompanying leaflets.

Dand's remarks were echoed by Eric Dardaine, Project Manager at Advanced Track and Trace (www.att-fr.com), a French brand security supplier.
All components marked and protected

Because packages are often opened and repackaged by counterfeiters, "every component in the package must be marked, from blisters, films and foils to metal, glass and molded plastic components, as well as labels, leaflets and folding cartons," said Dardaine.

Addressing the needs of the consumer, Dardaine mentioned the possibility of patients accessing telephone call centers to determine pharmaceutical authentication.

But during the question and answer session, audience members here in Paris expressed frustration. One went as far as to say the combination of multiple technologies was getting too complicated. Another envisioned a scenario where frustrated consumers stand in long lines with their cell phones trying to scan packages for authentication.

It is clear, despite many excellent technologies available to fight counterfeits drugs, the search for a consumer-centric solution to pharmaceutical authentication remains elusive.

Editor's Note: Want to hear first-hand how Catalent, Purdue Pharma, Johnson & Johnson, Intel, HP, Lexmark, and Liz Claiborne are defending their famous brands from the scourge of counterfeiting? Attend Packaging World's Brand-Protection Packaging Forum April 8 in Chicago. For more, visit www.packworld.com/bppf .

Companies in this article