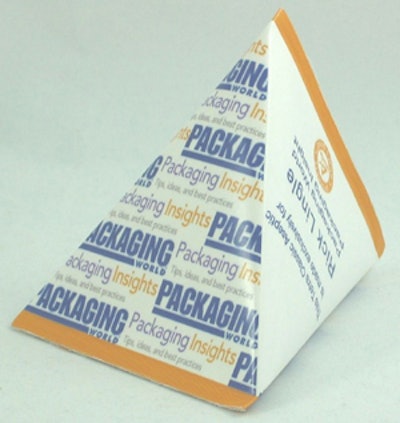 I recently chronicled my experience as part of a press tour in August to visit Tetra Pak in Lund, Sweden (see A look under the hood at Tetra Pak) that I shared along with more than a dozen other journalists from around the world. It was quite an international contingent.

Part of the visit included a tour of the facilities, from research and development through package manufacturing operations.

Following our visit to the packaging design and modeling areas, the press members in attendance were handed a customized Tetra Pak tetrahedron package.
And I do mean custom: Each was individually personalized, complete with the logo and font of the particular editor's publication. And on one of the four carton's sides was a printed dedication; mine read "This Tetra Classic Aseptic is made exclusively for Rick Lingle."

Likewise, my colleagues received their own custom cartons.

We all had the same reaction: wow, how neat! It had the intended impact, especially when we considered the effort that went into them—each designed and printed, and then formed and sealed by hand.

This is one of my favorite souvenirs that I picked up during this trip.
I call mine a Tetra Rick.

More packaging with a personalized touch

It's not the first time packaging has been personally customized. Here are some other examples I've come across:

• Jones Soda Co. offers to deliver a 12-pack of custom bottles directly to your door for just $29.99 plus shipping through its www.myjones.com Web site. The "personalized pop" of your favorite Jones flavor features a label that boasts graphics from your submitted photo and text. Your custom myJones bottles are promised to arrive within three to four weeks.

• On other sites, you can order your own personalized Wheaties box.

• There's even a "green" twist on customization, from TerraCycle, which uses recycled bottles for many of its plant food products. Starting in November 2006, it began including neck tags in all of its empty boxes sent to its Bottle Brigade members—those who collect and ship the collected used bottles at TerreCycle's expense in boxes. The collectors can sign the tags with their first name and state location. The neck tags hang from bottles sold at select retailers including Target.

• McDonald's take-out bags and cups feature various customers' photos and micro-bios from submitted entries; there's more information available at www.mcdonalds.com/globalcasting.

Have you come across any custom packaged products, personalized to this degree?

It makes one wonder how far packaging, assisted by technology like digital printing, can push customization.
Time will tell. Meanwhile, I'll keep my Tetra Rick carton on display.


Companies in this article