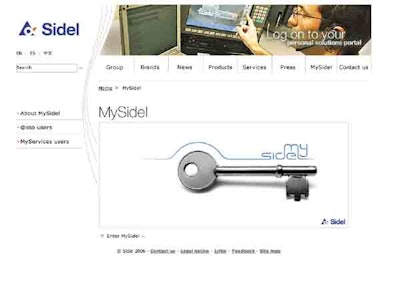 Sidel has unveiled its MySidel portal on its Web site (www.sidel.com). This new feature includes applications and information updated in real time, each tailored to meet the individual customers' needs. The tool can be implemented for now via two different applications: Spares On Line, for ordering parts; and WebDoc for checking technical manuals for any machine under the Sidel umbrella. New tools will be added throughout the year such as My E-Learning space for online training, and a virtual communication space where customers' technical questions can be addressed.
The Spares On Line tool allows customers to exchange data between their own system and the MySidel interactive portal, eliminating duplicate data entry. This enables customers to extract Sidel item codes and quantities from their own computers and then import that data into the Spares On Line interface.
Using the two tools simultaneously, customers can go to the WebDoc application and search for a machine's bill of materials in order to select parts and insert them directly into an online order.
A simulation of the Spares On Line and WebDoc applications is available at www.sidel.com/en/MySidel.aspx.
Companies in this article