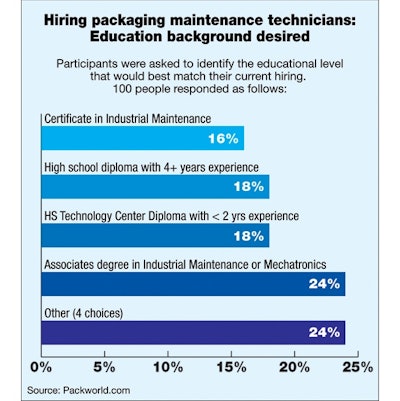 With the acceleration toward more electronics on packaging machinery, there's a growing concern for properly trained mechanics and operators.

That's the focus of an upcoming Workforce Upskilling Conference, March 21-22 at Reading Area Community College, Reading, PA (see end of article for more information).
In conjunction with the conference, Packaging World conducted an online survey in February that drew more than 200 respondents.

In one question, we asked participants about the desired qualifications of packaging maintenance technicians, and one-quarter zeroed in on an Associates degree in Industrial Maintenance or Mechatronics (see accompanying chart). We'll have more on the upskilling survey and conference in the June issue of Packaging World.

This isn't your dad's packaging machinery

Keith Campbell of Campbell Management Services organized the conference and worked with us on crafting the survey. He says the conference is focused on the need to upskill the United States workforce for manufacturing. Besides technology trends, the U.S. is compelled to have a skilled workforce to compete effectively in a global marketplace.

"Today there are PLC's, servos, device networks, cell networks, enterprise integration, sensors, readers, vision, robotics and closed loop control," Campbell says. "The new model for machinery is a skilled operator who can perform basic maintenance and adjustment of multiple machines, interpret diagnostics. And a mechatronics technician that is multiskilled in mechanics, electrics and electronics, process control and computer science.

"While there are pockets of improvement in education and training, what are the impediments to moving the workforce along? That is why we are holding this conference - to spread the word about the reality and the need to upskill."

The Workforce Upskilling Conference will identify technologies for world class manufacturing and packaging competitiveness. Packagers such as Unilever and organizations such as the Packaging Machinery Manufacturers Institute will join other experts to discuss the need for upskilling. For more information on the conference, visit IMTCPA.org or contact Joyce Lenox at 717-735-0333.


Companies in this article