Web Plus
Hartness Internationalwww.hartness.comThe newly launched Web site features enhanced graphics, the latest video footage, and more detailed product information. Designed to educate existing and potential clients on the company's expanded capabilities and the global nature of today's business. Eskowww.esko.comExpanded content and technical support have been implemented in this revamped site. Site reflects a graphical style that is consistent with the company's system integration, its software, and solutions. Homepage highlights the latest news, events, and contact information­—and a new user-friendly page format. AutomationDirectlearn.automationdirect.comThis newly launched video tutorial and training site is divided into major product categories and helps answer frequently asked questions on a range of automation topics from "selecting a PLC" to "building a combination manual motor starter." Other topics include HMI and PLC software features, the basics of sensors, and more.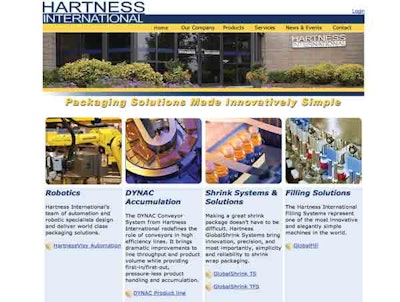 Companies in this article
Discover Our Content Hub
Access Packaging World's free educational content library!
Unlock Learning Here
How to ensure your best conveying project yet
Read our latest Playbook to discover how to ensure efficient product handling, best practices for specifying conveyor and container handling equipment, and top tips for a successful pack line startup.
Download Now