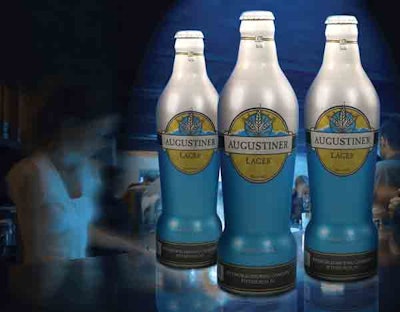 The brewer refers to its new contoured, 16-oz aluminum bottle, from CCL Container (www.cclcontainer.com), as the "Tailgater." It is shaped using Aluminex™ full-body shaping technology, which uses a process called "necking." The shape is created with a series of progressive dies. Proprietary technology enables the production line to include more progressive die stations that make the creation of highly contoured bottles, such as the Tailgater, possible.
"We were looking to give the Augustiner Lager brand a distinct look, and the new Aluminex shape was the perfect answer," says Joseph Piccirilli, vice chairman of Pittsburgh Brewing. "This aluminum bottle also allows us the opportunity to be more creative with the graphics. We were also able to print the brand's logo with ink that glows under the popular Ultra violet lights that appear in clubs and bars."
The logo, text, and graphics are printed directly onto the bottle in six colors in dry offset, plus a varnish coating.
Augustiner Lager is marketed in and around Pittsburgh, PA, with additional distribution in surrounding states.
Companies in this article