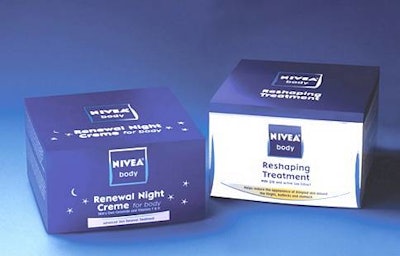 So said a press release from Beiersdorf AG, a Hamburg, Germany-based maker of skin and beauty care products.
    "Consumers place more trust in packaging than in any other advertising measure," it states. "While rational buying arguments, such as information content and usefulness are also considered, the credibility with which the packaging expresses the quality of the product is decisive. The visual, tactile, and olfactory senses should be used for easing an orientation into the retail trade."
    Beiersdorf's insights are at once practical and supportive of the packaging function. But what made this editor take notice was that the release was issued via e-mail through
Worldpressonline.com
, a dependable media resource for packaging-related news. Most releases from the portal come from packaging machinery or materials citing end-user applications of their equipment or materials, rather than from an end-user packager such as Beiersdorf.
    The skin and beauty care manufacturer made an additional point that's particularly salient for package designers: "With older people, additional factors apply. They are more critical, putting a very high value on readable and clear product information, easily understood and easy to handle opening mechanisms, a higher quality and easier brand recognition, for instance through the positioning of a brand logo."
    To read previous
Packaging World
stories about Beiersdorf, conduct a search at
Packworld.com.